"He called the crowds with his disciples and said to them 'If any want to become my followers, let them deny themselves and take up their cross and follow me.'"
Mark 8: 34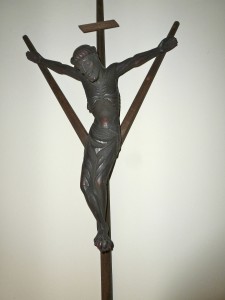 Lord, remember that moment yesterday?
I thought of you.
I was arranging the pulpit area at church for our Lenten services.
What was missing?
Then I knew.
The wooden cross with the crown of thorns.
I went to the upstairs storage area and found it.
I picked it up forgetting just how heavy it was.
My arms ached as I dragged it to the top of the stairs.
Ouch! A splinter pricked my thumb.
Slowly I descended, one step at a time, the cross battering on my shoulder with each move down.
When I reached the bottom, I still had 25 feet to drag this awkward, bulky representation of death forward to the front of the church.
That's when I thought of you. 
My minor inconvenience of a simple cross of display compared to the instrument of death for you.
When you carried your cross through Jerusalem, you were already whipped and exhausted.
You edged to an agonizing death with each slow step on the Via Dolorosa.
I imagine your cross was more substantial too, in many ways.
As I lifted the church's wooden cross and crown of thorns into its stand, I paused and said thank you.
Every time I look at this this season, I will remember the day I dragged its bulky, cumbersome form to the front of the church.
Help me remember how you gave everything for me.
The cross didn't stop you from living.
With your help, what crosses I am called to bear won't keep me from Life either.