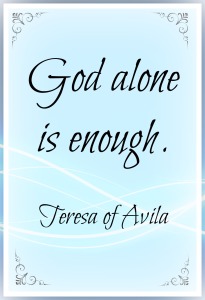 Every life tells a story – a story rich with spiritual lessons. One spiritual practice I follow is learning about other Christians throughout church history and their spiritual journeys. Their lives fill me with hope, guidance and ways to draw closer to God.
My faith tradition – Lutheran – has added to the worship and lectionary readings what they call commemorations – recognition of individuals or events that have been noteworthy in the life of the Church. Our Catholic friends have for centuries honored saints on certain festival days. What I am really enjoying is the expansion of the names on the Lutheran list to include people from all denominations.
Many of you may never have heard of this woman who lived in the 1500s. We celebrate her day on October 15th.
Teresa was born in Spain and at the age of fifteen, after her mother's death and the marriage of her oldest sister, Teresa was sent to be educated with Augustinian nuns. She returned home several times suffering severe illnesses, but at the age of 20 Teresa joined the Carmelite Convent of the Incarnation at Avila.
In the 1500s (the century of both Catholic and Protestant Reformations), convents and monasteries were not the astute places we might imagine. Teresa's convent at Avila was no exception. The richer nuns kept servants, wore jewelry, colorful sashes and perfume, and lived in private suites, while their poorer sisters slept in a dormitory. The nuns could travel freely outside the convent.
In 1539, Teresa suffered malaria, which returned several times and left her permanently weakened. During this time, she gave up on prayer, believing herself to be "too ill" to speak to God. Her struggles in prayer continued until she was forty-one. Day by day, she began to pray more effectively and sincerely and with a growing devotion.
Teresa's prayer life eventually grew so profound that she experienced the supernatural and she began a series of remarkable visions, seen "not with the eyes of the body but the eyes of the soul." There have been accounts that she was visited by angels, demons, and apparitions of Christ, and underwent real spiritual ecstasies. She is known as a Christian mystic.
Her advisors ordered her to write about her experiences of the spiritual necessity for prayer and the practice of contemplative prayer. She wrote the Way of Perfection and The Interior Castle plus a number of other works. It was principally for these writings that she was declared a Doctor of the Church four centuries later. The Catholic Church has honored only 33 people, and only three women, with the title Doctor of the Church – quite an honor for Teresa.
In her later years, Teresa accomplished her greatest works. In 1562, she began her reform of the Carmelite order by establishing convents throughout her area. In addition, she founded the order of the Discalced – or barefoot – Carmelites.
Teresa lived each day close to God. Once while she was traveling, her cart tripped and everything, including herself, fell into a muddy river. It is said that the soaking wet and very irritated Teresa looked to heaven and cried, "God, if this is the way you treat your friends, no wonder you have so few of them!" Now that is one close and friendly relationship!
Teresa was an honest and deeply personal writer, courageous reformer, and one who struggled with prayer but persevered through the dry times to find God in new and deeper ways.
Ponder Quotes from Teresa of Avila
"It is love alone that gives worth to all things."
"Accustom yourself continually to make many acts of love, for they enkindle and melt the soul."
"More tears are shed over answered prayers than unanswered ones."
"We can only learn to know ourselves and do what we can / namely, surrender our will and fulfill God's will in us."
"Be gentle to all, and stern with yourself
The feeling remains that God is on the journey, too."
"Untilled soil, however fertile it may be, will bear thistles and thorns; and so it is with man's mind."
"I do not fear Satan half so much as I fear those who fear him."
"Each of us has a soul, but we forget to value it. We don't remember that we are creatures made in the image of God. We don't understand the great secrets hidden inside."
Let nothing trouble you,
let nothing make you afraid.
All things pass away.
God never changes.
Patience obtains everything.
God alone is enough.
(This is a repeat of a post I wrote in 2009. I am traveling right now and chose some oldies but goodies to share this week. I hope you enjoy them!)