I was driving last week down one of our back county roads. 
Tall tasseled green corn stood in formation on each side of the highway.
Lining both sides of the road as far as I could see grew countless blue dayflowers.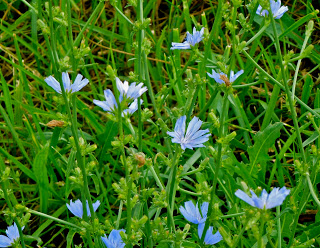 Delicate Queen Anne's Lace danced in the breeze.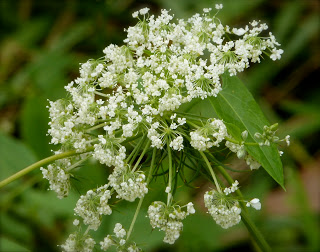 Even the clover blossomed in pick colors.

"Thank you" tumbled out of my mouth.
The beauty of God's world captured my voice and all I could say was "Thank you."
"Thank you, Lord God, for crafting these dazzling details in Your creation."
If the only prayer you ever say in your whole life is "thank you," that would suffice. —Meister Eckhart
*****************************************************************************
 I realized later that except for the corn, the beauty I experienced that day arrived in the form of unwanted weeds. In fact the blue dayflowers are classified as noxious and hard to control.
Made me wonder:
   What do I cling to that would be categorized as toxic?
     Are there other unwelcomed "weeds" that I think are useless, unnecessary and only a nuisance that I should be thankful for?
    What splendor have I cast off that if I looked once again I would see its beauty?
God's nature overflows with lessons, doesn't it? Even with the weeds, He is teaching us.
Now I know all the Bible verses about weeds and the gardening words of wisdom about controlling them, but this week I also saw beauty in weeds. 
Found some interesting quotes about weeds that made me appreciate weeds a little more:
A weed is but an unloved flower.  ~Ella Wheeler Wilcox
Weeds are nature's graffiti.  ~Janice Maeditere
Weeds are flowers too, once you get to know them.  ~A.A. Milne
What is a weed?  A plant whose virtues have not yet been discovered.  ~Ralph Waldo Emerson
I will end with this blessing for you:
May all your weeds be wildflowers.  ~Author Unknown
P.S. Just realized today's post is my 400th on this blog.  Thanks for reading!!