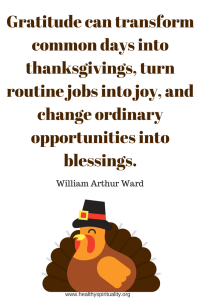 In the U.S, today is Thanksgiving, a time for family, food and feelings of gratitude. Enjoy the following Thanksgiving trivia plus.
No holiday would be complete with some good old fashion trivia:
Did you know Abe Lincoln declared Thanksgiving a national holiday? He was responding to the efforts of a magazine editor named Sarah Josepha Hale. Her other claim to fame? She also wrote the nursery rhyme, Mary Had a Little Lamb.

The term Black Friday, for the shopping day following Thanksgiving, began in Philadelphia in the late 1960s.

The Pilgrims and Indians probably ate venison and seafood at the first Thanksgiving. Sorry, no turkey.

Don't forget to pull the "wishbone" at Thanksgiving. Two people pull the turkey's breastbone apart, only the person who has the larger piece of bone is allowed to make a wish. The one with the shorter piece will be married first.

The heaviest turkey ever raised was 86 pounds, about the size of a large dog. Turkeys will have 3,500 feathers at maturity. Male turkeys gobble. Hens do not. They make a clucking noise. Commercially raised turkeys cannot fly. Turkeys have heart attacks. The United States Air Force was doing test runs and breaking the sound barrier. Nearby turkeys dropped dead with heart attacks.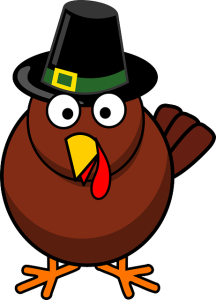 Help Me Thanksgiving Day Prayer
O God, when I have food,
help me to remember the hungry;
When I have work,
help me to remember the jobless;
When I have a home,
help me to remember those who have no home at all;
When I am without pain,
help me to remember those who suffer,
And remembering,
help me to destroy my complacency;
bestir my compassion,
and be concerned enough to help;
By word and deed,
those who cry out for what we take for granted.
Amen.
-Samuel F. Pugh

I am thankful for you and am grateful to God that we are friends!