When they saw the star, they rejoiced with exceedingly great joy. Matthew 2:10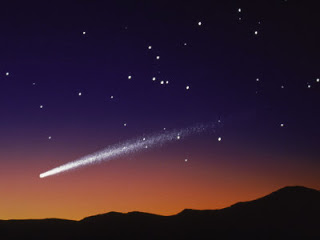 The star
Lord, I awoke early this week to watch the Geminid Meteors streak across the sky. I sat in my dark warm office by the window and waited 
    and waited 
       and waited. 
            Nothing.
Sigh
Was I just fool to believe I would see a shooting star? Maybe I missed them. Perhaps I was looking in the wrong places. This is ridiculous, I thought, I should be in bed.
But in the silence and stillness of the dark house, You quietly entered my heart.
So we talked. Just you and me, Lord, staring at your creation that twinkled and sparkled above me.
I placed in Your hands my worries and concerns. 
    I lifted up my friends who are hurting. 
        I whined a little and then remembered to thank you for all          things.
Thank you Lord for the stars and this quiet time together. My heart felt warm in the embrace of Your love and joy. The very act of lifting my eyes upward to watch for You, open the curtain of rejoicing.
Soon I was wordless and just rested in the comfort of Your presence.
Sigh.
Your amen to our time together was not one, but two brilliant meteors racing northward with long yellow tails. Their message from You to me: "I keep my promises. Keep looking. Keep waiting."