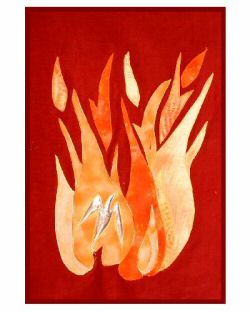 Pentecost
is the celebration of the coming of the Holy Spirit to the early Christians. It marks the birth of the Christian church and means "fiftieth day" as it is celebrated fifty days after Easter, this coming Sunday.
I have been reading about Pentecost for my own meditations and collecting some quotes about this event.
Red
is the liturgical color for this day
.  Red
recalls the tongues of flame in which the Holy Spirit descended on the first Pentecost.
A tradition of some churches in ancient times was to baptize adult converts to the faith on Pentecost. The newly baptized catechumens would wear white robes on that day, so Pentecost was often called "Whitsunday" or "White Sunday" after these white baptismal garments.
On the 50th day after the Sabbath of Passover week, the Jews celebrated a festival of thanksgiving for the harvest. It was known by a number of different names:
Feast of Weeks (Ex. 34:22; Deut. 16:10)
Feast of Harvest (Ex. 23:16)
Day of First fruits (Num. 28:26)
The "Feast of Weeks" was the second-most important festival for the Jews. (The most important was Passover.) This explains why so many people from all over the Roman Empire were in Jerusalem on the day when the Holy Spirit was sent (see Acts 2)
"When the Holy Spirit came at Pentecost, it wasn't dynamite, it was a dynamo! Dynamite makes a loud noise, kicks up a lot of dust, and it's over. A dynamo is a continual source of power. It builds and builds and builds, and the power never stops flowing." Ken Hutcherson
"
The word "Comforter" as applied to the Holy Spirit needs to be translated by some vigorous term. Literally, it means "with strength." Jesus promised His followers that "The Strengthener" would be with them forever. This promise is no lullaby for the faint-hearted. It is a blood transfusion for courageous living
."
E. Paul Hovey
"O Holy Spirit, descend plentifully into my heart. Enlighten the dark corners of this neglected dwelling and scatter there Thy cheerful beams." St Augustine
"I myself do nothing. The Holy Spirit accomplishes all through me." William Blake
"
I believe that by my own reason or strength I cannot believe in Jesus Christ, my Lord, or come to him, but the Holy Spirit has called me through the Gospel, enlightened me with his gifts, and sanctified and preserved me in the true faith
."
Martin Luther
May your heart be set afire by the Spirit of the Lord. Come Holy Spirit.