"He came and took her by the hand and lifted her up."
Mark 1: 31a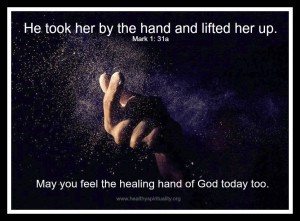 You healed Peter's mother-in-law with just your touch, Lord.
Come take my hand too.
Lift me up into the path you want me to walk upon.
Lead me to your still waters and refreshing wisdom.
Help me serve others so they too can experience your touch.
Your touch – that is all it takes.
A simple gesture, a sacred second, a tiny taste of the divine.
I am blinded by looking for massive miracles and giant glimpses of you, but so often I find you in the small moments.
You don't speak in the thunder and the roaring fire but in the whisper of a silent heart.
Just a plain touch of your hand – pure, practical and down to earth.
Help me see you today in the simple, Lord.
To hear you in uncomplicated, open words.
To feel your presence in every breath.
To know you by the touch of your hand.