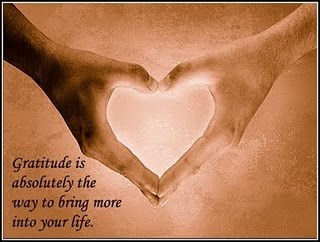 This is the time of year many of us ponder what we are thankful for in life and generally live with an increased sense of gratitude.
Living a life of gratitude helps us find the positive side of life and reminds us what is really important. Seeing the world through the lens of thankfulness gives our lives more meaning, more appreciation, and more joy. Gratitude balances life by counteracting all the negatives the world throws at our souls.
"
Gratitude is like a flashlight. If you go out into your yard at night and turn on a flashlight, you suddenly can see what's there. It was always there, but you couldn't see it in the dark.
" (From Dawna Markova,
Attitudes of Gratitude
.)
  "
When it comes to life the critical thing is whether you take things for granted or take them with gratitude."

G. K. Chesterton

Here are a few videos to sprinkle some gratitude on your journey and help you make it a daily spiritual practice:
How do you build gratitude in your life?