The Spiritual Practice of Kindness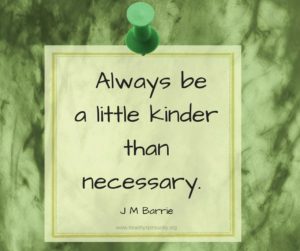 Kindness
Have you ever stopped to think about kindness?
I was surprised to learn the week of August 25- 31 is Be Kind to Humankind Week.  Never heard of that one before, but the idea lingered in me as I pondered interesting spiritual practice.
I wonder how the world would be, how we would live, how children would learn if we intentionally cultivated the spirit of being kind each day. In a world filled with fear and cruelty, we are itching for an outbreak of this characteristic.
I hunger for more tenderness, politeness and respect.
Kindness creates bridges, builds hope, and fosters gratitude. This loving act heals relationships and transforms lives.
It's easy to stay in our habits, our comfort zones of busyness and self-focus. Remember we are being shaped by our Father and his spirit dwells within us forming the gifts of "love, joy, peace, long-suffering, kindness, goodness, faithfulness, gentleness, self-control" within our souls. (Galatians 5:22-23).  We ARE kind – we are called to unwrap this gift and use it.
What is Kindness?
The Spirituality and Practice website shares this about this practice:
"The spiritual practice of kindness encompasses a range of small acts and habits that we know as old-fashioned good manners — saying "please" and "thank you," waiting your turn, lending a helping hand, or cheering someone up with a smile. It applies not just to your relationships with other people. Etiquette in the spiritual life extends to things, animals, plants, and the Earth.
This practice also means being generous with your presence, your time, and your money. Give freely without expecting anything in return. Just do it. Kindness is not a quid pro quo endeavor."
 Quotes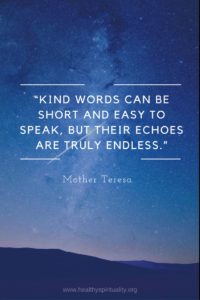 If there is any kindness I can show, or any good thing I can do to any fellow being, let me do it now, and not defer or neglect it, as I shall not pass this way again.
William Penn
*******
The kindnesses of others fertilize our soul, they become a part of who we are, and we carry them and their love. We feel this when people die, how their gifts remain alive in us.
Wayne Muller
*******
You cannot do a kindness too soon, for you never know how soon it will be too late.
Ralph Waldo Emerson
********
Constant kindness can accomplish much. As the sun makes ice melt, kindness causes misunderstanding, mistrust, and hostility to evaporate.
Albert Schweitzer
*******
Remember there's no such thing as a small act of kindness. Every act creates a ripple with no logical end.
Scott Adams
********
Three things in human life are important. The first is to be kind. The second is to be kind. And the third is to be kind.
Henry James
********
A single act of kindness throws out roots in all directions, and the roots spring up and make new trees.
Amelia Earhart
*******
A good character is the best tombstone. Those who loved you and were helped by you will remember you when forget-me-nots have withered. Carve your name on hearts, not on marble.
Charles H. Spurgeon
*******
When I was young, I admired clever people. Now that I am old, I admire kind people.
Abraham Joshua Heschel
*******
Kindness isn't always an act, a duty, or a behavior – it is a mindset that positively changes the world beginning with the person right in front of you. 
Jean Wise
[Tweet "Kindness isn't always an act, a duty, or a behavior – it is a mindset that positively changes the world beginning with the person right in front of you Jean Wise"]
Kindness Practices
Random acts of being kind are one form of practicing the spiritual discipline. We have all heard of the stranger buying the coffee for those in line behind him or someone leaving an encouraging note and extra tip for the overworked waitress.
What else could we do?
Simply smile – acknowledging and accepting the person right before you is a powerful act of kindness.

Write a letter. 

Make that long overdue phone call.

Choose silence over criticism, encouragement over discouragement.

Be a courteous driver.

Donate to a worthy cause.

Listen.

Visit someone who needs company.
Let's discuss and spread some of this marvelous magic today.  How would you define and practice this practice?