The next few weeks I am hosting a group of guest bloggers. These very special ladies all offered to help fill in while I check off an item from my bucket list: a pilgrimage to Scotland and England.
Today my blogger friend, Lynn Mosher, joins us. A few months ago one of the posts she wrote really lingered in my heart and became one of my favorites. In fact I copied her prayer and added it to my morning devotions. With her permission we are reposting this post here today. 
I connected with Lynn though Jen Ferguson's blog, FindingHeaven, and we are partners in one of Jen's Soli Deo Gloria small groups.  Getting to know her in this group has been such a pleasure. Being part of a small group that prays for one another is so encouraging.
I have enjoyed getting to know Lynn and hope you will too. Married since 1966, Lynn is a wife, mother of three, sister, grandmother, and writer seeking to follow God's will.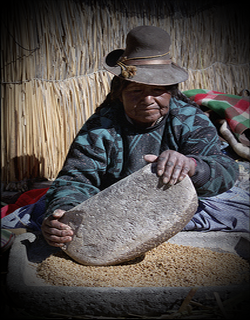 The Sweet Aroma of Crushing
Have you ever experienced a devastating circumstance in your life? At one time or another, we all go through trials that attempt to crush us, squeeze us, bruise us, or set us on fire. Though these difficulties strike us, many times their impact will bring beauty out of chaos, if we allow it.
Some things only achieve their greatest design through crushing blows…
*The squeezing of grapes produces sweet wine.

*The pressing of olives extracts their delectable oil.

*Only when wheat is ground is it useful for making bread.

*The crushing of flower petals releases their oil for fragrance.

*Incense is useless – its purpose not fulfilled, its odors not set free – unless touched by fire.

*Only through great pressure, heat, and time does coal produce the gemstone of a diamond.
Just as all of nature suffers contrary conditions in order to be expanded, strengthened, or enhanced, so, too, do we. 
Crushing, squeezing, and suffering remove the unnecessary things in our lives, allowing the fragrance of holiness and sweet graces to be released.
But during these trying situations, how do we behave? 
Do we whine, kick, scream, question God, or tell Him it isn't fair? 
Or are we still before the Lord, allowing His power to work in us, as we bow to His divine purpose by submitting our will to His and as we offer Him praise from lips of thanksgiving?
Which behavior do you believe is the sweet aroma to the Lord?
Did you know God has sensitive sinuses? During those times of adversity, do we present Him with a pleasant aroma in His nostrils or a stench stuck in His throat? Are we like Estee Lauder's Beautiful perfumery or a men's locker room? Like a flower shop or a machine shop? Like a bakery or a fertilizer plant?
Some of God's children in the Bible were stinkers and others were sweet-smellers. How did they each react when they experienced crushing blows or fiery circumstances? Many times, Israel was a stinky bunch of whiners. Others who experienced great trials came out smelling like, well, like a rose.
One is Paul. Of the multitude of afflictions he experienced, he said, "We were really crushed and overwhelmed, and feared we would never live through it. We felt we were doomed to die and saw how powerless we were to help ourselves; but that was good, for then we put everything into the hands of God, who alone could save us, for He can even raise the dead. And He did help us and saved us from a terrible death; yes, and we expect Him to do it again and again." (2 Cor. 1:8-10 TLB)
One group is the Three Amigos. You know, Shadrach, Meshach, and Abed-Nego. While they were in the fiery furnace, they believed their God would deliver them, and, even if He didn't deliver them, they believed He would still save them from Nebuchadnezzar.
As those flames lapped up around them, God walked among them and rescued them. The smell of smoke did not even cling to them when they came out. Their sweet aroma of faith had not changed.
When trials linger incessantly, lapping their flames around you, do you reek more of the smell of smoke or the sweet aroma of faith?
Is your trust and devotion as that sweet aroma of the alabaster passion box, lovingly poured upon Jesus' head, which seeped into His beard and gently trickled down upon His shoulders, saturating His garment?
I pray that the things attempting to crush you will release that dormant, precious fragrance lying deep within your heart.
Lord, may each burden of my life work as a weight to crush my disobedience, my instability to stand on Your Word, and my inability to be used by You.
Crush me, for then am I made useful. Crush me as flower petals are compressed for their fragrant perfume. Crush me as olives squeezed for their valuable oil. Crush me and let my life overflow with that delectable wine.
Crush me for my rightful purpose that I may be useful in Your hands, that I may be that readily available vessel for Your use, that passion box ready to be broken open and poured out with the sweet-scented oil of Your Holy Spirit.
I pray that the things crushing each reader's life right now will only work to bring out the holy aroma of obedience and sweet-smelling graces of Your will. Amen!