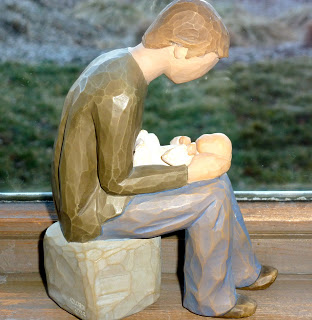 How do you describe time spent in the presence of God?
First I want to thank many of you who held me in prayer when I went to the four-day silent retreat last week. I encourage you if you have never gone on retreat, whether a silent one or one filled with life-giving presentations, to try this spiritual practice. You will receive priceless nourishment for your journey in life.
Even as a writer, I have difficulty finding the words to illustrate these precious quiet days with God. So I will borrow a phrase from Anthony de Mello:
I experienced being enfolded in the hands of God and beheld in His tender, loving, and unfailing gaze.
I found this statuette and took multiple photos of this father and baby since they best represent how I felt.

"You are precious in my eyes. I honor you and love you." Isaiah 43:4
Often at the beginning of a retreat, the director will suggest some Bible verses that may guide us on our weekend. As soon as Susan mentioned Hagar, I knew God was inviting me to sit with her.
Genesis 16: 8 – "and he said, 'Hagar, slave of Sarai, where have you come from and where are you going?"
I knew Hagar's story. Having Abraham son, Ishmael when Sarai couldn't bare any children. And when Sarai did give birth to Isaac, Hagar and her son were sent out into the desert. There the Lord promised to take care of them.
What I didn't know was the Genesis 16:8 verse above was taking from the first time Hagar fled to the desert, while pregnant. I never realized she left two times.
Oh, how those passages in the 16th chapter of Genesis fed my weekend:
The questions: where have you come from and where are you going?"
 Sarai mistreating Hagar. Who was my Sarai I was running from in life?
 An angel searching for her and finding her in the desert.
 Hagar's direction to return and submit.
God's promise of hope.
Perhaps the verse that lingers now with me is verse 13: "She gave this name to the Lord who spoke to her, 'You are the God who sees me."

We have a God who sees us. Whose eyes never leave us. Who continually watches over us in love and delight.
"The most difficult thing in mature believing is to accept that I am an object of God's delight." 
 Alan Jones
I do struggle with the idea that God delights in me and loves me unconditionally; after all who am I, but a mere flawed human. But after a weekend of being saturated by His love, I know He tenderly touched me deeply and began the healing of that misconception.
I leave you with a poem by Macrina Wiederkehr that took my breath away:
O God
Help me
To believe
The truth about myself
No matter
How beautiful it is!
May you experience the awesome love of God and be held in His gaze.