The unfolding of your words gives light; 
it gives understanding to the simple.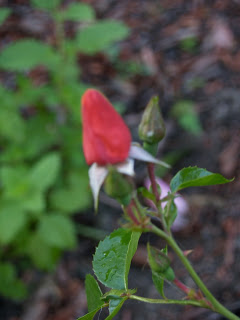 The unfolding of your words
I walked in my garden with you this week, Lord.
I watched You dance with the dragon flies and bounce upon the purple cone flowers.
Even with the very hot, dry July, Lord You coaxed a multitude of rose buds to bloom.
The petals slowly stretch their arms open as if they were reaching up to You.
I gazed at my newborn twin grandsons this week wiggle and unfurl their legs in the freedom of their new lives.
Unfolding – what lovely word, Lord.
The unfolding of Your words light my journey.
The spreading out of Your spirit guides me on my way.
You remove the blinders on my heart slowly and gently so I can savor Your wisdom.
You are revealed in Your words and become known to us simple mortals.
We probably couldn't live seeing Your full revelation.
After all, You are God.
I celebrate the unfurling rose buds and join them in reaching my arms up to You.