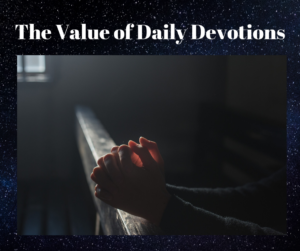 Why Do Daily Devotions?
Reading the Bible and other inspirational words start my day off with the right frame of mind/heart/spirit.
Devotionals deepen my prayers and give me new perspectives.
Often I hear God through other writer's insights and words.
Devotions breathe new life into my tired soul. They nourish me, strengthen me, and shape my spirit.
Devotions realign my thoughts with God's thoughts; God's vision unclouds my point of view.
Time in fellowship with God become a sanctuary of worship and love.  I hear God better when I quiet my noisy interior and enter his presence.
Consistent connection with God is a joy and source of guidance and correction.  The devil loves a dusty Bible, you know.
Worshipping and being with God isn't only a one hour on Sunday, but envelopes our every moment. Daily devotions help me praise God and worship him.
Devotionals invite me into God's word. I see once again my brokenness, my sin, my ego and am received by a loving, gracious Lord. I am far from perfect but I am a beloved child of God and God wants to spend time with me too.
Advent Daily Devotions
Several years ago, I published 40 Voices – a Lenten Devotional and have been asked multiple times when I was going to write devotions for the Advent season. Now I admit I am uncomfortable with book promotions but I did want to share an update.  I am happy to announce the birth of a new book.
Christmas Crossroads – 30 Devotionals for the Holiday Season is now available on Amazon as an e-book and a print book.
Christmas Crossroads – 30 Devotionals for the Holiday Season will enrich your time before Christmas, prepare your heart for celebrating the birth of Christ, and lead you to a clearer understanding of discernment in the crossroads of life.
The crazy chaos of the holiday season descends upon our souls quickly, complicating our journey. We crave the peace, joy, and hope during Advent, but often we only experience uproar and mayhem.  The intersection of uncertain choices merged with the holidays compounds our decisions.
Christmas Crossroads – 30 Devotionals for the Holiday Season will help you to:
Approach Christmas with an open and receiving heart.
Explore making the best choices at the crossroads encounter in life.
Listen to people of the Bible and gather inspiration and guidance from their crossroad experience.
Apply new ways to make the right decisions on our life journey.
Grow closer to God in quiet reflections as you seek God's guidance during the holidays.
For the next several weeks, the e-book version is only 99 cents. Perfect daily readings for the Advent season. May daily devotions bless your life and bring you closer to God. I would be honored to walk with you during Advent.  And if you would have time, leave a review on Amazon too – that is always a blessing for an author. Thank you!!
What is your favorite daily devotion?