Advent is the four weeks preceding Christmas and is a time of waiting and preparation for the arrival of the Christ Child. More and more church traditions are celebrating this special time of year. The last few weeks I have been posting information and reflections about the colors and meaning of Advent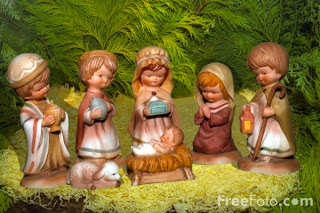 Emmanuel
Christmas "should" be a joyous time.
We are supposed to look forward to all the get togethers.
Our expectation is peace on earth and within our hearts.
Then why am I sad? I feel a shroud of melancholy over my shoulders as Christmas approaches.
This time of year does bring lots of smiles, joys, sharing and celebrating.
But the holidays also come loaded with negative feelings.
I am missing those no longer with us.
My parents died a number of years ago, but still the child within me wants to be with them during this season.
Many of you may remember I lost my 991/2-year-old best friend last May. I pass Esther's house and think I should stop and go in for a visit.
But she is not there any more.
Christmas sharpens the loss of them and other friends, gone but not far from my heart.
I miss the loved ones no longer with me.
Perhaps that is why the word Emmanuel means so much to me.
The virgin will be with child and will give birth to a son, and they will call him Immanuel"—which means, "God with us". Matthew 1:23
I love this Bible verse: "God with us."
Not just in the past.
Not only someplace distant in the future.
But now
God is here. With us. Always.
Sometimes I don't feel God's presence yet other times He is so real I know I could reach out and touch the hem of his clothing. So I cling to Emmanuel. God is with us.
"

O Come, O Come, Emmanuel
" is a favorite hymn to sing during Advent. Its history originates in the medieval Roman Catholic Church. This mournful melody was originally a Plainsong or Chant, which is the earliest form of singing in the church.
It is believed that the traditional music stems from a 15th Century French processional for Franciscan nuns, but it may also have 8th Century
Gregorian
origins. An unknown author wrote seven antiphons–short lines to be sung before and after psalms. Those seven antiphons all begin with the "O," and thus became known as "
The O Antiphons
."   
Just think: the people of the Dark Ages – few of whom read or had access to the Bible – this song was an example of the full story of how the New and Old Testament views of the Messiah came together in the birth and life of Jesus. And we still sing the words today, connecting us throughout the centuries to our fellow believers.
My loneliness fades in the warmth of God's Emmanuel message. I cling to His promise and chose to focus on Him, the baby who changed everything.
Thank for coming, Emmanuel.
My prayers are with all of you this season, especially those of you having a difficult time.