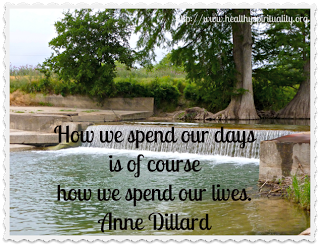 Dry and hot – that is the best way to describe the weather in northwest Ohio this summer. We have had more days over 90 degrees and too many over 100 than ever before on record. THEN add to it very little rain – the ground is cracked and parched and the poor plants withering.
Sometimes summer drains our spiritual life too. We rush to kid's ballgames, speed through vacations trying to see everything we can, and take on household projects like the Pharaoh trying to build the pyramids.

 

I become my soul's slave driver – "Work! Go! Do!"
Reminds me of the story I once heard:
A group of Americans made a trip with Brazilian natives down the Amazon River. The first day they rushed. The second day they rushed. The next day they rushed. One day, anxious to continue the trek, they were surprised to find the natives seated together in a circle.
When asked the reason for the delay, a guide answered,
"They are waiting. They cannot move further until their souls have caught up with their bodies."
I have resolved to take some time this summer to allow my soul to rest. I am going to snatch time back from the frantic hands of the "must do list" and give myself permission to stop and savor some summer Sabbath. I intentionally plan to spend time with God, with others and with myself:
    I heard God deeply there and felt refreshed, but since home I hopped right back on that treadmill of busyness.

 
   

I hunger for more silence and to sit at Jesus' feet and listen. That only comes through intentionally getting up early and praying. I can't force it; I can only come with an open heart to the throne and wait in love. But I can wake a little earlier than usual while the house is quiet and begin my day with God.
  

Beside contemplative prayer, I am deepening my time with His Word this summer. I am blocking off time to read and meditate on scripture and journal what I think I am hearing.

 
   

I am so grateful and want to give back to others. This week we are having lunch with good friends, traveling through from New York and next week we are meeting my college roommate for a minor league baseball game.
   

I plan to give time to others by listening without judgment.
   

My intent is to laugh and break bread together.
   

And to focus more on time with others helping as needed. I read on my friend Laura's blog this week the line, "
"It's (service) contagious. When someone unselfishly serves you, you find yourself wanting to pass it on."


3. Time with myself – When I wrote this post last week about books that feed my spirit, I revisited quite a few "old neglected" friends gathering dust on my shelves. I am going to dive into some of the books I read in the past and delight in their lessons again.
  

And don't tell my husband yet, but I ordered a few new books to add to my collection. We are going to England and Scotland this October and the group we are traveling with sent a list of recommended readings to take in before our pilgrimage there. I have wanted to study more about Celtic Spirituality and have more background before our journey there.
I reread these three ways to spend time this summer and at first thought "Oh no, more tasks to add to my busyness!" But on second look this is not true. I am setting priorities – time with God, time with others, and time with myself.
How we spend our days is of course how we spend our lives.  Anne Dillard
From now on I know how I am spending my days, my life. I am savoring summer with intentional practices that will refresh my spirit and give time for my soul to catch up with my body.
What are you doing this summer to refresh your spirit?