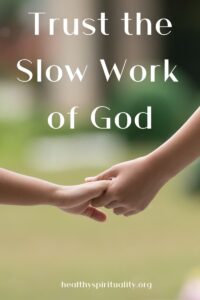 Trust the Slow Work of God, written by Teilhard de Chardin, is a challenging quote, but one that I repeat often. This year especially its words call to me.  Sometime "borrowing" a prayer, written by someone else, expresses what your heart is trying to say but can't find the words.  This one encourages me and I hope it encourages you too to keep trusting.
"Above all, trust in the slow work of God.
We are quite naturally impatient in everything to reach the end without delay.
We should like to skip the intermediate stages. We are impatient of being on the way
to something unknown, something new.
And yet it is the law of all progress, that it is made by passing through some stages of instability, and that it may take a very long time.
And so I think it is with you
Your ideas mature gradually. Let them grow.
Let them shape themselves, without undue haste.
Don't try to force them on as though you could be today what time (that is to say, grace and circumstances acting on your own good) will make you tomorrow.
Only God could say what this new spirit gradually forming within you will be.
Give our Lord the benefit of believing that his hand is leading you and accept the anxiety of feeling yourself in suspense and incomplete."
Above all – reminds me this is important, possibly the most important wisdom to remember.
Trust – I have no idea what the future holds, but I do know who holds the future. I don't fully understand but I wait expectedly. My impatient ego tries to control, manage the journey ahead but that is not my job, it's God's.  My work is to abide in faith.  The least I can do is to "give our Lord the benefit of believing that his hand is leading me."
Slow – Not my speed of rushing to shallow answers and getting it done and wrapped up neatly with a bow. God's timing. God's leaven for fully raised bread of life. The unfolding of what's ahead crawls without me knowing or directing the action. The Creator knows.
Work of God – It's God's work. I am God's work. This life is God's work. You are God's work. We belong. We are seen. We are loved.
Above all, trust in the slow work of God.
What do these words stir up within your heart?