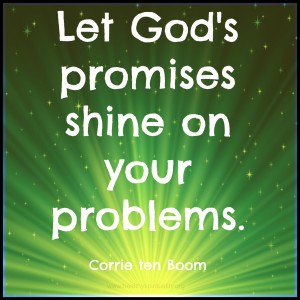 How can we learn to better trust in God?
When I conducted a survey of many of you last year this was one topic that came up in many of the responses. Trusting God is a common struggle and one I think we all deeply would like to improve.
I have two prayers lately I have brought to God – over and over again. I repeat them constantly during the day – just in case he didn't hear them the first (second and third and so on) times. I beat on heaven's door with these requests and stick them on with permanent, if not eternal, gorilla glue. My heart to God's heart type of deep desire.
The other day my prayer became a mantra:
I will trust in you.
I WILL trust in you.
Please help me trust in you.
Trusting God isn't a "I can do this myself" self accomplishment. Ironic isn't it? I need to trust God to help me better trust in him.  
What does trusting in God mean anyway?
Trusting in God means clinging to the knowledge we are his beloved children and he knows what is best for us. He desires the best for us too. His best.
Trusting God is remembering that God sees the whole picture with his loving wide-angle view from his heart. Our narrow focus blurs with imagined fears, constant anxieties and the "what if's" that daily trip us up.
Trusting in God builds as we get to know him better through time in prayer, his word and being open and vulnerable as he shapes and prunes our life.
Trusting God is stepping out in faith when we don't see the path clearly and know we teeter on the edge of the unfeasible. We ask for his strength and courage to act. We fake it till we make it knowing God is faithful and will be there with us no matter where our journey leads. We take our hands off the steering wheel and watch God do the impossible.
Trusting God means to intentionally choose his power over my powerlessness, his hope more than my hopelessness and his vision bursting open my limited point of view.
Trusting God is living a reflective life. Looking back with clear hindsight we see God's presence and provision of just the right answer – a perfect, surprising fit.
Trusting God means to be willing to share with others our story and learn from others' stories about God's providence.
Brennan Manning wrote, "You will trust God only as much as you love Him." Ouch.
Trusting God is hard. As fragile humans we take pride in our independence, our self-efficiency, our insistence on control. We fail and are frail. We want answers and want them right now, on our timetable. We approach the King of Heaven on our knees confessing our faith is incomplete without him.
Trusting God is being vulnerable enough to draw close to God even though we have been wounded when we have been open to people in the past. We've been hurt when we trusted others and we lump God with those who have betrayed us. But God isn't like anyone else we know – he is greater, purer, and well, trustworthy.
Trusting God pleases God. And I do want to please God.
I want to trust God more.
I will trust in you, Lord.
I WILL trust you, Lord.
Please help me trust you more.
Let's have a conversation about trusting God? What do you think?