If anyone acknowledges that Jesus is the Son of God, God lives in them and they in God.
And so we know and rely on the love God has for us. God is love. Whoever lives in love lives in God, and God in them.
This is how love is made complete among us so that we will have confidence on the day of judgment:
In this world we are like Jesus.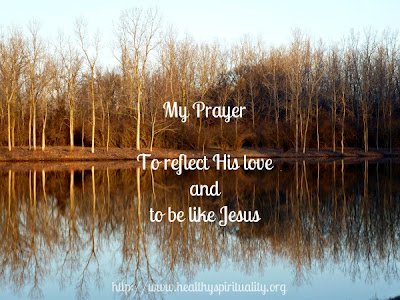 In this world, we are like Jesus.
To the world, Lord, we are like Jesus.
 I know often I am not a true reflection of You.  I am sorry about my failure in this, Lord.
But I know You live in my heart.
You call me to be more like You.
You invite me to be like Jesus.
You summon me to be Jesus in the world.
In community we become Jesus with skin on.
Cover my heart and body with Your presence, Lord.
May my eyes be Your eyes.
May my hands serve others with Your touch.
May my words echo the Word that brings peace and comfort.
I want to reflect You, Lord.
To love myself enough not to give up.
For the world, to be like Jesus.