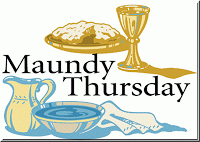 What does the word "Maundy" mean?
As we progress through this holy week of Christ's passion, I paused and realized I didn't really know the definition.
The name "Maundy" derives from Latin,
mandatum novum
, the first sung response of the traditional ceremony for the washing of the feet. (See John 13.)
The Christian church observes
Maundy Thursday
as the commemoration of the sacrament of Holy Communion and, in some traditions, the footwashing.
Another place claimed the word came from
the Latin word
mandatum
, meaning "commandment," Maundy refers to the commands Jesus gave his disciples at the Last Supper: to love with humility by serving one another and to remember his sacrifice.
The observance is one of Christianity's oldest celebrations, dating back to the first century church. In the 12th century, the English Church initiated a custom of distributing money to older adults who had performed outstanding service to the crown. Known as "Maundy Money," these specially minted coins are handed out in red and white ceremonial purses by the reigning King or Queen. Along with the giving of alms, Kings and Queens of England would also wash the feet of the poor as a way of humbling themselves.
In Germany, Maundy Thursday was also known as Green Thursday. The name was not due to the color green, but from the close association to the German word for "grief" or "weeping". Many families would eat only green vegetables, spinach in particular, as a way of humbling themselves before God.
No matter what the exact definition or what rituals take place, Maundy Thursday is a time to pause and humble ourselves in the presence of the Lord, remembering his suffering and death for us so we can live forever with Him.
May our hearts recommit to Jesus' command at the Last Supper found in John 13:34: "
A new command I give you: Love one another. As I have loved you, so you must love one another."