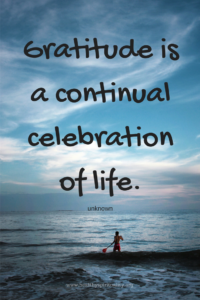 This Thursday in the U.S. we will be observing Thanksgiving. Though this holiday seems to focus more on food than being grateful, I have been thinking about what I am most thankful for this November.
Often we offer our gratitude for the big, obvious stuff – the blessings God sends, our loved ones, friendship across the years, our favorite foods, health and even life itself. But this year my prayer have expanded. 
Thankful Challenge
My challenge to myself and I invite you to join me, is to dig a little deeper and think beyond the obvious to those behind the scenes moments and people that need to hear our gratitude. Here are some examples:
Thankful for the truck driver who brought the food to the processor or the distribution center, the workers who unloaded the food and those who stocked the shelves at the store for our convenience.

Thankful for the farmer who raised the turkey, the potatoes, the wheat for our bread. The scientists who create new seeds to produce the food we so enjoy.

Give thanks for those working on Thanksgiving instead of being home with their families – the EMTs, the nurses, those protecting our safety.

Pause a moment to remember and be grateful for the freedom to get together, to pray freely, and to worship our God. I am thankful for those who fought for our freedom from beginning like our founding fathers to the veterans to those died to we could be free.
We miss the obvious, little things to thank God for.
When we were children we were grateful to those who filled our stockings at Christmas time. Why are we not grateful to God for filling our stockings with legs?
G.K. Chesterton
What make me ponder those behind the scenes with such gratitude? And just what am I most grateful for this November?
What I am Most Thankful for this November
What I am most thankful for this November? The carbon monoxide detector.
This simple device was first invented by Chester Gordon and James Lowe, employees of the American Telephone and Telegraph Company in 1925  and in the 1990s the updated version of this handy little device we all should have in our homes by Underwriters Laboratories.
Carbon monoxide is called the silent killer as people can breathe in its poison and never realize its presence. Every year, at least 430 people die in the U. S. from accidental CO poisoning. Approximately 50,000 people in the U.S. visit the emergency department each year due to accidental CO poisoning.
Why am I so thankful?
The carbon monoxide detector has saved one of my children's lives, not just once, but twice.
When my son was in high school, he didn't feel well one morning and stayed home ill from school (mmm, looking back on this now maybe his headache and nausea was from carbon monoxide). Both his dad and I left the house and went to work.  The shrieking alarm from the detector woke him in the early afternoon. He called his dad who work just a few blocks from our home, open the windows and went outside.  We found out later a small piece of metal blocked an essential duct in our furnace and the poison built up and ventilated throughout our house.
Thank you Lord for the carbon monoxide detector for saving my son's life.
Then just last week. My daughter with my three priceless grandchildren came home from running errands and upon entering their house, heard not one but all three detectors screaming. The inspectors found a major crack in her furnace that had just been recently turned on when the weather turned cold, releasing the poison into her house at very high levels.  He told us that "a simple 9 volt battery in the detector" probably saved their lives.
Thank you lord for the carbon monoxide detector for once again saving my family's life.
A scary incident.  I am overwhelmingly thankful for those behind the scenes who invent, protect, and provide safety for us.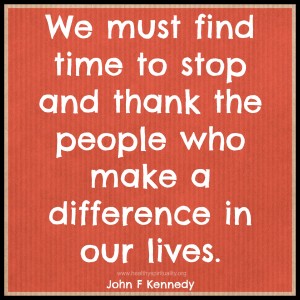 "So while it's true that Thanksgiving only comes but once a year, we should actually celebrate thanks each and every day. It's just a matter of learning to live with a spirit of gratitude."
– Unknown
I am thanking God for giving humans the means, the brains, the creativity to discover such marvelous inventions.
Thank you, Lord for precious, fragile, irreplaceable life.
What behind the scene/less than obvious who or what are you most thankful for this November?
P. S. I am so grateful for those of you who have taken the time to complete the current survey about this blog. I would love more of you to complete the readers survey. I value you input. Click here for this year's survey.  Please complete it before the end of November. Thanks so much.