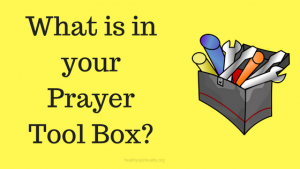 With 2018 being the year of prayer here on Healthy Spirituality and spring cleaning fever attaining high pitch at least in my house and heart, digging into my prayer tool box seems like a great image to explore.
Each month this year on the Tending the Holy Thursdays there will be a focus on an aspect of prayer. On my Thursday posts, I pick one theme (or person of faith) to explore deeper. I call this series Tending the Holy Thursdays.
Prayer Tool Box
I like the image of a tool box. This is a treasure chest of prayer practices you have used, continue to use, or have been curious enough to know at least a little about.
We all have them – the go-to tried and true ways we come to God and those little someday I may try that ideas.
I do believe God is with us all the time and there is nothing we can really "do" to evoke his presence. He is the pursuer of our hearts and surrounds us and lives within no matter what we do.
As Annie Dillard wisely wrote, "I cannot cause the light. The most I can do is put myself in the path of its beam."
How do we "put ourselves" closer to the light of God?
What do we turn to in those challenging, dry times? What do we rely on even in good times? Those are the tools in our spiritual toolbox.
Some basic tools we use all the time, like a hammer and screwdriver. The spiritual tools like prayer and Bible reading are essentials in everyone's spiritual toolbox.
What are your essential tools?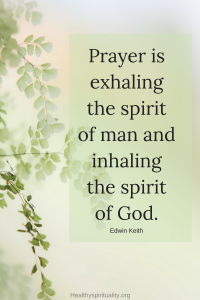 Other tools appeal more to some people than others. For me journaling, silence and annual (or more often) retreats. Others love memorizing Bible verses – and a new one each month. I find having one or two verses that linger with me on a yearly basis opens up my heart to hear God in new ways. I have a friend who loves taking walks in her woods and would consider that time with God indispensable. Another experiences God best when taking photos.
In some moments, a unique tool may come in handy. Maybe you have never tried before a silent retreat or a breath prayer or contemporary worship music. Occasionally picking up a new tool or one you haven't tried before can bring in freshness to our spiritual walk. Or when experiencing a dry or difficult time, reading a new type of book, learning a fresh way to study the bible, talking with a spiritual director or even just a time of laughter and fellowship with friends – all help.
Sometimes it is time to set aside a tool that has served us well in the past, but now feels worn and old. As we grow and evolve in our walk with God we find what nourished us in one season isn't as satisfactory in another time. Often God calls us to a new arena and we feel stretched, clumsy, and uncomfortable learning a new skill.
Imagine tools we have when we build or repair something. Or a tool used for only one time for a specific project.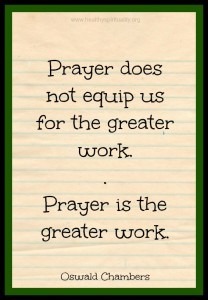 Questions to Ask about Your Prayer Tool Box
My challenge this week and I am asking you to consider this too: What tools do you have in your prayer tool box?
Ponder these questions and write out the answers in your journal.
What prayers do I easily and naturally use?
What prayers do I resist and rarely use?
What practices bring me closer to God?
What prayer practice did I use to use, but no longer or haven't recently tried?
What type of prayer have I never experienced?
What prayer practice seems to be calling me right now in this season of life?
Make a list. Name the practices. Ask God to open your heart to hear how he wants you to grow in prayer right now.
Next Thursday we will explore different approaches to prayer. On May 17, I will share non-digital practices to explore – good ol' paper and pencil, analog type of prayers. On May 24 digital ideas will be shared and listed.
It is my hope that the image of a prayer tool box will inspire you to name the practices you love and frequently use and find new ideas to add and try in your time with God.
What is in your prayer box? What do you think you would like to add?