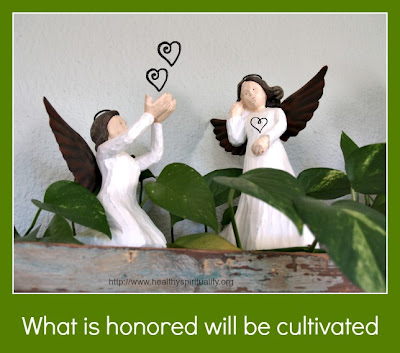 I heard a fun and interesting speaker this past weekend. Terry Hershey is the author of numerous books including The Power of Pause and Soul Gardening. His superb story telling opens the heart and makes you think and the quotes he shares lingers within you.
Terry said one of his favorite quotes was by Plato:  "What is honored will be cultivated."He noted that Plato didn't say what is taught, what is learned, what is believed, but what is honored. When we honor something, it grows, develops, encourages, and supports.
I looked up and the actual quote from Plato is this:  "What is honored in a country will be cultivated there."  Mmmmm, now there is another aspect to think about!
But the whole issue of what am I honoring in my life has stayed with me this week. What does it mean to honor something/someone?
In my life am I honoring God? 
Honoring myself as a child of God?
To honor means to treat with respect, to keep your word, to speak highly of someone instead of the instant banter of sarcasm our culture so easily employs.
To honor includes giving time and presence to another. 
To honor is more than just complimenting someone with flattery, it is an attitude of knowing the other is valuable, a treasure, and a unique and special gift in our lives.
Again knowing these attributes of the word "honor" I know I fall short of honoring God, others and even myself most of the time. Then to consider how to honor those who fail us, disappoint and hurt us certainly make it even more difficult at times.
I have heard it say to find out what you honor – look at your calendar and your checkbook. That can be shocking.
Terry Hershey said that most of the time we work from the automatic default mode of living elsewhere (such as the past or future), worrying more about using our swords to react to others out of our fear, guilt and shame, focusing too much on the destinations in life and lugging along the heavy weights and measures to know where we are, how we are doing and how we compare to others. 
He encouraged us to shift to knowing that in life we are enough and called to live in the present, to offer grace, not sharp, piercing weapons to one another and our own hearts, to savor the journey and to live in awe and wonder, fueled by gratitude. 
Intentionally living as he suggested offers time and space to honor God, others and myself more.
What do you think?  What do you honor in life?