Where is All the Time Going?
Time – Where does it all go? ARRRGH! I just looked at the clock. Something is wrong. The time thief stole two hours this morning. I can't believe this! I thought it was only 9:30, but every clock in the house (and I did look at other clocks to verify this mystery) shouts: NO, STUPID, IT IS 11:30!

Where is the time going?

People warmed me when I retired that I would begin to wonder how I ever worked a 40+ hour week as a fulltime mother and still got things done.
"You will be busier than ever in retirement."
"Just wait, time will go so fast."
And I have discovered their predictions to be true. Or are they? Maybe the truth is how I use time.
Where is the time going?

I make plans prayfully, but soon find what I thought would take one hour, takes three hours. Or even worse – takes all day to complete. I carefully plot my daily to-do list, but discover the day evaporating before I know it.
And is 2009 really half way done already? WOW!
Where is the time going?

I want to be a good steward of the time God has given me. The one equalizer all people enjoy is we each get 24 hours each day. The issue then becomes how we use that time God gives us.
I do NOT want to be like the servant who buried his coins for safety. One of my deepest desires is to be like the servant who used all their talents, increasing them for the Lord. I long to hear, "Well done, good and faithful servant." This includes in the use of my time, a gift from God.
Where is the time going? Part of the answers is in the following observations:
1. Parkinson's first law is right: Work expands to fill the time available for its completion. If I think something will take one hour when in fact it only requires 30 minutes, miraculously the full amount of time will be needed. As a freelance writer, this axiom needs to serve as a guiding light for time management.
2. I have to admit to time wasters, like the internet, twitter, and emails. Honestly I do not use all my time wisely. Technology has both its benefits and its temptations. Balance is the key.
3. Is time actually moving faster as we age? Studies show it actually is the pace that has increased dramatically causing us to feel rushed. Because we are moving faster than before and things are taking just as long as before, we feel like we are speeding up. Another theory is that, many people are attempting to cram more things into the time they have. (This is so true for me!) They are constantly multi-tasking whenever they have free time, therefore not feeling the full effects of that extra time. Whenever we have a second to spare, we try to make a phone call, while waiting for that to go through we check our emails and while our webpage loads, we do something else. This is the reason why we feel like our time is so impacted and that we have less time, because we are simply doing more with that free time.
I like the Chinese proverb: One cannot manage too many affairs: like pumpkins in the water, one pops up while you try to hold down the other.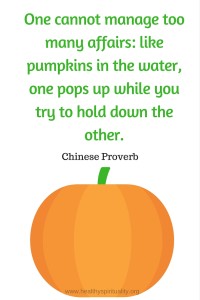 My distorted human perception of time warps my expectations and frustrates my sense of purpose. God's view of time is much different and beyond our comprehension. While Job laments, "Now my days are swifter than a runner; they flee away, they see no good. They pass by like swift ships, like an eagle swooping on its prey" (Job 9:25-26), God holds time, creates time, and places His time swaying on the continuum of eternity – no beginning, no end.
Where is the time going? "Time is the coin of your life. It is the only coin you have and the only  you can determine how it will be spent. Be careful set you let other people spend it for you." Carl Sandberg. 
Where is YOUR time going?