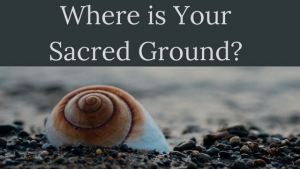 Where do we find sacred ground? A place to be with God, to experience God. A setting so filled with God's spirit you want to take your sandals off and slowly and reverently enter. An environment teeming with peace, joy, and love.
Where is your sacred ground?
I pondered this question in my journal recently. At first, I thought I never reached this place before in my walk with God. Oh sure, I have been graced with a few mountain top experiences but being on holy ground?
Then God in his goodness slowly brought to mind all the places, the touchpoints of his presence. Sacred ground is all around me – I just never fully appreciated it before or grasped its holiness.
Taking Our Shoes Off on Sacred Ground
In Exodus 3 we hear the story of Moses taking his sandals off in the presence of God.
Moses worked every day minding his father-in-law's flock of sheep. An ordinary day. Nothing special planned. Just work.
Suddenly Moses sees a bush that is on fire, burning without being destroyed by the flames. Of course, this catches his attention – paying attention often is an entrance into sacred ground. Moses hears a voice.
The voice says, "Moses, Moses…Do not come nearer to here. Take off your shoes from your feet for the place where you stand is holy ground." (Exodus 3:5)
Taking our sandals off in the presence of God may sound strange at first but in reality, is a sign of respect, honor, and acknowledgement of who we are and who we are with. We stop, stoop to untie, become vulnerable, humble, and slightly naked in the presence of the One who gives us all, even life itself. The sandals represent the dirt I carry into my relationship with God and removing them recognizes God's light, purity, forgiveness, and love.
Five Places I Find Sacred Ground
Becoming aware of the sacred ground all around me has made me aware of God's presence throughout the day. I pause and slow down because I am know God is here. This realization has helped me see others I am with through God's eyes, leading me to listen more deeply and choose love in my reactions.
Imagining I am bowing down to untie my sandals frames my experience with God and allows me to let go of my ego ridden expectations, my urge to control what I can't influence and to appreciate this moment with God.
Here are just five places I am finding sacred ground lately:
Home office
I have a comfortable rocker next to my home altar and my resources for my devotions in my office. I face the window where I can watch the sun rise, the clouds race by and my favorite little birds dancing with joy at the feeder. I settle into that chair and step into sacred ground. I know I can worship anyplace but the simple act of sitting in this familiar place quiets my spirit and opens the doorway to prayer. This is sacred ground.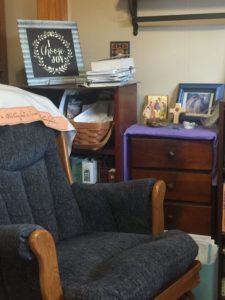 Church Lounge
Now I know you are wondering why our church lounge makes this list. We have a cozy room with two comfortable chairs and this is the location where I listen to others in my spiritual direction practice.
The Holy Spirit is the spiritual director, listening, accompanying them on their faith journey – I am just a fellow pilgrim, listening also and encouraging them along the way.
I watch, again paying attention, to how God is working in their lives. The space between us in those moments of deep sharing transforms into sacred ground. A holy place where God waits and lingers with us.
The Sanctuary
I love sitting up front in my church. We have a painting of Jesus and draws me into worship.

I think about Moses as I approach the altar during communion. Do I have my shoes still on? Am I wrapped up in my concerns and distractions? Or have I entered, truly walked through the veil into God's presence in the wine and bread? Each week, I bow and acknowledge the presence of God at worship. I can't fully comprehend his immeasurable greatness, but I am at least taking my shoes off knowing he invites me in and loves me as a child of God. This is sacred ground.
Backyard
Monday was the first day Ohio warmed up into the 70's. The sun felt so good. I pulled out one of deck chairs for the first time this year and sat outside for about five minutes soaking up the sun. And soaking in the Son.
I listened to birds singing.
I breathed in fresh air.
I paused and listened.
My deck transformed into sacred ground.
Doors
When my grandkids come to visit, they take their shoes off right by the front door. Mmm, is my house holy ground? LOL
But what I am noticing is doorways, thresholds into a new area. Crossing openings into a new space often is an invitation into sacred ground.
Where is God in this place? Like Moses in the midst of everyday, ordinary work, can this space be sacred?
We go through doors throughout our day, simple familiar doors reminding us  of the possibility and the probability that God is present.
In the heart of the person I am visiting who is in hospice? Yes, he is there.
Is God with us in the laughter of friends, family and especially children? Yes He is present.
Does this room hold possibilities of God's power, strength, and wisdom in a room of doubters, and questioners full of anger and fear? God is in our midst, even in conflict and misunderstanding. I don't always see him, find him, but he is there and the door into that room is beginning to trigger the thought that I am entering sacred ground.
We pass through doors all the time. Watch for doors with the signpost that says, "You are entering sacred ground. Take your shoes off and know God is present".

I am more aware now of sacred ground all around us. The spiritual practice of paying attention opens my eyes and heart to God's presence.
Where are you finding sacred ground?