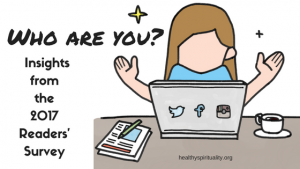 Who are you?  You are part of the Healthy Spirituality community and a record number of you took the time to fill out this year's readers' survey. Thank you so much.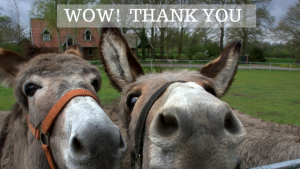 As you read this blog, you get to know me, my story, my flaws, my quirky life. But unless we write in emails, talk in comments, or when the wonderful blessing happens that we meet in person – I don't know many of you. I want to know you better.
And I want this blog to be a place for you to connect, find inspiration, and maybe learn something that draws you closer to God. To achieve this mission, it helps to know your needs, struggles and joys as we walk together on this life's journey.
Today I am sharing with you just some of the insights I am learning as I analyze the survey. All answers were anonymous, so I have no idea who said what.  Whether you completed the survey or not, I think you will enjoy seeing the responses.  Lots of food for thought in these answers and I think a sense that we are on this journey together – we share many of the same experiences, frustrations, and delights.
Who are you? – What Helps you the Most in Connecting/Hearing God?
Some of the answers to this question could be merged and may overlap but trends and ideas appeared.
I was surprised at the overwhelming number one answer to this question.  Almost half of the respondents wrote what helps them most in connecting/hearing God was:
Silence and Stillness.
I thought these practices would score high but was amazed on how many of you listed them.
Number two related to the above and is what I expected to be number one:
Prayer.
The third one was music.  Now at first you may think music opposes silence and stillness – which was my first reaction – till I remembered how often in worship music invites me closer.  How a word of a hymn or song is just the comfort or guidance I need in a lonely moment. How I feel a part of the family in God when singing together Silent Night by Christmas Eve candlelight. Yes, music is powerful in bringing us closer to God.
Other answers were nature, daily devotions, the Bible, friends, worship, journaling and paying attention. My heart was warmed when several answered seeing God at work in others and in the world.
Who are you? – Your Favorite Authors
I asked this question in order to get to you better through your reading lens.  Answers varied from fiction to non-fiction, from those I am familiar with to some new names.  The list is really long but here are a few answers:
Lynn Austin,
Brennan Manning,
Jenn Hatmaker,
Lysa Terkeust,
Anne Graham Lots,
Davis Bunn,
Francine Rivers
C.S. Lewis
Max Lucado,
Thomas Keating,
Ann Voskamp,
Flannery O'Connor,
Toni Morrison,
Louse Penney,
Tozer
Karen Kingsbury,
Connilyn Cossette,
Henri Nouwen,
Richard Rohr,
Anne Lamott,
Wendell Berry,
Richard Foster,
Beth Moore,
Lois Tverburg
Oooooo, too many. I have a long list of new authors to explore!
Who are you? – What Practices Do You Long to Learn More About?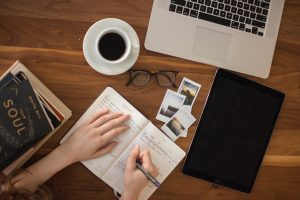 Again, quite a list of answers. Here are a few of most popular ones mentioned:
Prayer and hearing God
Bible – study God's word and go deeper into the Bible
Meditation
Discernment
Fasting
Forgiveness
Journaling
Who are You?  The Biggest Challenges in our Faith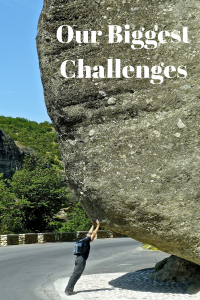 The biggest challenges many of us face encompass a wide range of answers, many which made me sad and full of compassion for you.
We struggle with "rules" from the Bible and from our churches that don't make sense to our hearts and what our spirit tells us about God.
Other people, especially those who call themselves Christian and strained relationships among family and friends and even clergy that feed our doubts, loneliness and sense of not being good enough.
Busyness
Being still and staying in God's presence.
Distractions, such as social media.
Staying focused, especially as caregivers in our families.
Inconsistent spiritual practices.
Loss of passion and seeing the fruit in our work.
 A frequent question: What is God's will and how to hear him better?
Who are You?  What Takes You Away from God?
Number one answer by the majority of you?  Busyness! The bustles of everyday life.
Other answers were social media, work, the devil, stress, worldly cares, shame, and worry.
Who are You? What One Thing Would You Change about Your Relationship with God
The overall theme of these answers was a deep longing to be more devoted and faithful to God. To trust him more and love him with all your heart, soul, mind and strength.
To be closer to God and be at peace within his mystery.
To hear his voice clearer.
What Next?
Again, thank you for taking the time to share your deep and personal answers with me about your relationship with God. I will take these insights and use them to help me plan future blog posts, themes, and resources for 2018. Your gift to me was your honest revelations and hurts which I hold gently like fragile priceless treasures and lift up in prayer.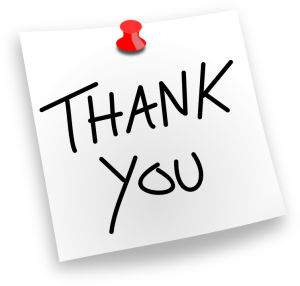 I am so grateful you come here every week and read these simple words. I love having you walk along side me on this spiritual journey together. And I look forward to discovering and exploring ways we all can connect with God and nourish our faith.
Which of these questions or answers resonated most with you?  Anything to add?