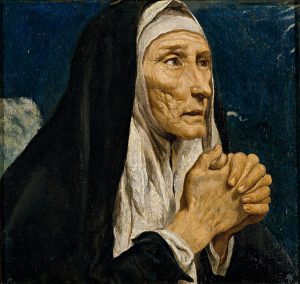 "May 4 is the commemoration of Monica, the mother of St Augustine."
I read this little footnote, in very fine-have-to-squint-even-with-reading-glasses print at the bottom of last week's church bulletin.
I have read quotes from St Augustine and heard his story in some church history classes but his mom? I faintly remember hearing something about a St Monica, but really didn't know much about her. This being the month we celebrate Mother's Day, I think it is time to get to know a mother who apparently earned the right to be recognized by many church bodies throughout the year.
What is a Commemoration?
As believers, we are part of the body of Christ. This legacy exists across time and place and had deep roots in our history in the communion of saints. When a church remembers and lifts up a name of someone from our past faith history, we commemorated them.
Many of these "saints" are not perfect, but all have a story that holds a lesson for our own personal walk with God. We see how God's grace works in all people. Learning their story helps us learn our story all within God's grand story.
Who was Monica?
Monica is best known for being the mother of St Augustine. It is believed she was born around 322 AD in the area of north Africa, now known as Algeria.  Most of what we know about her is from Augustine's book, Confessions.
Monica was born to Christian parents who gave her away in a marriage to Patricius, a pagan. He was known to have a violent temper and live an adulterous life. Her mother-in-law also lived with them and constantly criticized Monica.
They had three children who survived infancy, with the oldest being Augustine.  Patricius would not permit their children to be baptized which of course deeply disturbed this woman of great faith.  She especially worried about Augustine, who lived with a young woman in Carthage and has an illegitimate son. Her constant prayers and tears for her son had the effect of converting her husband to Christ before his death.
Augustine continued on the path that led him away from Christ. Monica felt disheartened and disappointed, but never gave up. One night Monica dreamed Augustine would come to Christianity. From that time onward, she stayed close to her son, praying and fasting for his care.
When Augustine decided to go to Rome as a teacher, Monica followed. When he moved onto Milan, she went too. I am not sure how a grown man would appreciate his mama following him like that, but Monica was determined to win her son back to Christ.
In Milan, Monica met Bishop Ambrose who became her spiritual guide. He told her, "Surely the son of so many tears will not perish." Under Ambrose's influence, Monica became a leader among the women of faith in that community.
Monica's prayers were finally answered on Easter 387, when Bishop Ambrose baptized Augustine. She told Augustine, "Son, nothing in this world now affords me delight. I do not know what there is now left for me to do or why I am still here, all my hopes in this world being now fulfilled." She became ill shortly after and died nine days later.
Knowing her story no wonder Monica is known as the patron saint of wives and mothers whose husbands or sons have gone astray. St. Monica is also the patron saint of alcoholics, victims of abuse and adultery, widows, and mothers facing family difficulties.
Lessons from Monica
Prayer – the power of prayer permeated her entire life – giving her strength, perseverance, and hope.
Persistence – I am encouraged that Monica never gave up. We all have heart aches in our lifetime and perhaps the hardest ones to bear come from our loved ones. We want what is best for them, but poor choices lead them astray leaving us full of disappointments, fears, and helplessness. Monica persisted and remained faithful for a long time – what a model for all of us.
Pay attention to your tears – When we are aware of what moves us to tears, what catches our breath, what gives us life – those become signposts of where our prayers, time, and energies need to be.  Here is a great quote about our tears:
"You never know what may cause them. 
The sight of the Atlantic Ocean can do it, or a piece of music, or a face you've never seen before. 
A pair of somebody's old shoes can do it. 
Almost any movie made before the great sadness that came over the world after the Second World War,
a horse cantering across a meadow,
the high school basketball team running out onto the gym floor at the start of a game. 
You can never be sure. 
But of this you can be sure. 
Whenever you find tears in your eyes, especially unexpected tears, it is well to pay the closest attention.
They are not only telling you something about the secret of who you are,
but more often than not God is speaking to you through them of the mystery of where you have come from and
is summoning you to where,
if your soul is to be saved,
you should go next.                                                                                             
Frederick Buechner
After hearing more about Monica, what did you learn?