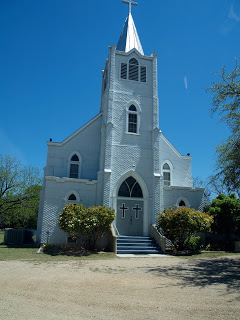 I read this story the other day:
A minister was talking to a man about joining the church.
"I want to join a church because I want to be fed," said the man.
The ministered answered, "Well that is fine, but we all would be better off if you would take off your bib and put on an apron."
Good answer, Pastor, but to be honest one of the reasons I do attend church is to feed my spirit. I attend for an opportunity to worship and be with God and to serve Him by helping and being with His community. So if you put all three reasons together I attend for God, for others and for myself.
Is that so bad?
The Barna Group recently surveyed Americans
who have attended a Christian church sometime in the past and discovered what they say about their experiences in these congregations.
I found some of their discoveries very fascinating and through provoking.
Also interesting to note that the size of the church didn't matter – small, medium or large answered in similar ways.
·

     
Most people responded that they did connect with God at church. I thought it was sad though that a third never felt His presence at church. After all 66% is considered failing in school. Yet part of me is also surprised that two-thirds did experience God in a church setting.
·

     
One-quarter of Americans (26%) who had been to a church before said that their life had been changed or affected "greatly" by attending church. Another one-fourth (25%) described it as "somewhat" influential. Nearly half said their life had not changed at all as a result of churchgoing (46%).
Almost one half said church had not changed their lives?
Wow!
·

     
When asked to think about their last church visit, three out of five church attendees (61%) said they could not remember a significant or important new insight or understanding related to faith.
Can you recall a new insight from last Sunday?
I am really appreciating and enjoying our new pastor as I usually do take away awareness that applies to my daily living.
·

     
This study also showed that 68% of the respondents said when they attend church they feel "part of a group of people who are united in their beliefs and who take care of each other in practical ways." On the other hand, one-quarter (23%) of those with church experience selected the description that church feels "like a group sharing the same space in a public event but who were not connected in a real way."
·

     
The survey asked respondents to consider the budget, activities, and encouragement of the church they usually attend and to rate how much of an emphasis is placed on serving the poor. In total, 40% of adults with church experience said caring for the poor was emphasized "a lot," while 33% indicated it was "somewhat" of a priority.
I am thinking of sharing these findings with our church council and Sunday School class. May get some good discussion going.
What do you think? Do you agree with what they found out? Why do YOU attend church?