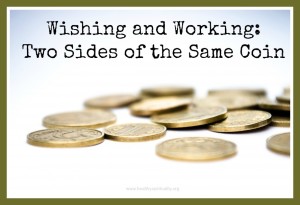 Funny how sayings from your mother stay with you. I can still hear my mama's voice on quite a few words of wisdom, though the oddest one is this:
"You can pee in one hand
and wish in the other
and see which one you get filled first."
Yep, she really did say that. I can't remember but I must have "wished" a lot as a child cause I heard that quote quite a bit.
A good reflective practice is to listen to the language you use. What does your vocabulary say about you? I have been trying to hear the words I chose in daily life during this Lenten season. I have discovered I continue to "wish" frequently.
I wish I would lose more weight.
I wish I would finally be a multi-book author.
I wish it were summer.
I wish I could hear God better.
I wish….
I wish…
Wishing is easy; work is harder.
Wishing and working though are two sides of the same coin.
We need to wish, to dream, to imagine the what if's. Wishing gives us hope. Wishing fuels our motivation. Wishing often identifies the passions and gifts God has given us. Wishing stretches us, wakes us up in the morning and helps us see into the future.
Would we even work without some wishing? Maybe just enough to buy groceries and pay the bills but eventually that wouldn't be satisfactory.
But wishing doesn't get us anywhere without some work. We also need some sacrifice, some discernment and definitely choosing between good and best. Work takes time and often some struggle. Work takes energy, education and no excuses.
I am reading Jeff Goin's new book The Art of Work – a Proven Path to Discovering What You were Meant to Do. This is one book I plan on keeping on my bookshelf to refer to in the future. He includes some great tips and inspirational stories.
I like his chapter on practice. "When trying isn't good enough." I think practice connects wishing and working. I can wish all I want but unless I keep working, showing up, not letting failure derail me, I won't ever get to where I want to be. I will fail. I will fall. I will have to start again. This is called "deep practice" – do it over and over again until it becomes second nature.
Working is what makes us ready when that opportunity comes along. Working creates the structures and fills in the foundation under that wish. Dreams become true with work.
The truth is hard work is hard. Often it is thankless. You get up early before anyone else to write, to create, to, as the word goes, to work. It is difficult to choose not to sleep in or to not eat that dessert. It is easier just to roll over or give into temptation then to work.
So my mama probably was right about wishing.
She also would remind me that a "dream would never become reality without some sweat, focus, determination and lots of hard work." Smart lady, right?
Walt Disney was a dreamer but a worker too. Here are a few quotes from him to ponder:
"The way to get started is to quit talking and begin doing."
"Get a good idea and stay with it. Dog it, and work at it until it's done right."
"First, think. Second, believe. Third, dream. And finally, dare."
Join the conversation: what do you think about wishing and working?