Putting my hopes, dreams, fears, prayers into words often connects with God. I love words and taking letters and sentences and putting them into meaningful sentences helps me grow spiritually.
Writing is a spiritual practice for many of us. I pay attention to more details when I attempt to find words to describe where I am and what I am experiencing. I hear God clearer when I write.
To paraphrase the line from the movie, Chariots of Fire:  "When I write, I feel His pleasure."
Writing most often takes form for me in journals, but what many of you may not know besides this blog, I write for our local newspaper, magazines, and even have been in books.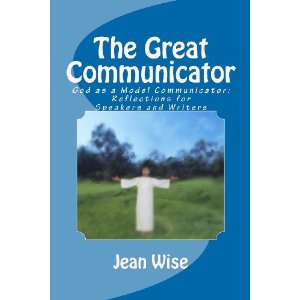 The purpose of this blog hop is to talk about
what I'm working on at the moment as a writer. And heeerrreee we go!
What am I working on as a writer right now?
  I have two more big to do's to accomplish before the end of the year.
2.Discerning my 2013 goals as a writer. I also prayfully set spiritual goals each year and will write more about those at a later date.
Where is the Great Communicator available?
What is The Great Communicator about?
The Great Communicator is a devotional book that will nourish Christian speakers and writers' faith by their reflections on one-word descriptions of God as the Great Communicator.
This book is unique in its use of Bible verses to describe God as a communicator. Some words are familiar (creator, poet and messenger) and others are surprising (editor, blogger, and broadcaster). After all, He has been a best seller, created a classic and is sought after for communication for centuries. What better role model do we have?
What did you learn by self-publishing a book?
  I learned it takes a lot of work. Many people never realize how much effort goes into writing, editing, and the blood, sweat and tears into publishing. I think that is why there are many writer wannabes – it is not as easy as one thinks.
   Taking a manuscript and turning into the correct format for electronic publishing was challenging and tedious. Both Create Space and Smashwords were user-friendly though and had great step-by-step instructions. Yes I would do it again.
What goals are you thinking about in 2013?
I am a goal setter. I know I may not get everything done I set out to do (and often have too much planned) but it helps me to have a target to aim towards.
a.  I want to update the format of this blog and reduce the clutter on the side panels. Any other suggestions?
b. I would like to continue to host and to be a guest blogger on other blogs. 
c.  I haven't worked much with Goodreads and know it is a site to find some fascinating books and to connect with other writers.
d.  I would love to obtain an agent next year and in order to accomplish this dream I really need to spend time and effort on at least one, if not two book proposals. I plan to attend Write to Publish Writers Conference in June and hopefully can meet with some agents face to face and talk about my career as a nonfiction writer.
e. Writers are readers. I am a fast reader, often with multiple books going at the same time. In 2013 I plan to savor some readings by taking small bites of some special books and chewing on them with more depth. I pray God will open my heart to new insights this way.
I hope to reread this book slowly and prayfully savoring her words.
I sense there may be a third book but don't know a title yet. Any suggestions?
Other writers are participating in this week's blog hop, starting on Wednesday. Here are a few you may want to check out:
Pat Trainum (who writes as Patricia Bradley), writes romantic suspense and recently signed a three-book contract with Revell. Visit her at

http://ptbradley.com/blog

.
I invite any of you who write and want to participate to answers the simple question: What are you working on? on an upcoming Wednesday and link it back to Linda Glaz.
Enough about me. How about you? What are you working on or what goals are you thinking about for next year? What do you do to "feel God's pleasure?"