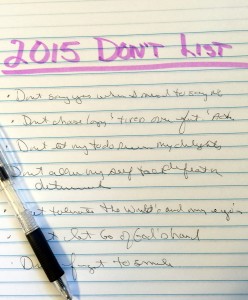 I am often consumed by my to-do lists and felt the deep need to pause and imagine a "don't list" to follow in my life.
I read this old joke the other day:
A guy who goes to the doctor because his hand hurts when he moves it.
"It hurts when I do this," he says to the doctor.
"Then don't do that," the doctor answers.
Which is, when you think about it, excellent advice for a lot of things.
The practice of reflecting what would be on a don't list made me think and I hope take notice more quickly when I revert to my default mode of old habits and comfort zones. So here are some things I thought of for my Don't List:
Don't say yes when I really want and need to say no.

Don't choose lazy and tired over fit and active.

Don't let my to –do's ruin my delights.

Don't allow my self-talk defeat my determination.

Don't tolerate the world's and my ego's definition of success in distracting me from God's plan.

Don't let my eyes revert to short-term detours instead of focusing on long-term destinations.

Don't listen to noisy life instead of God's voice.

Don't permit my "I'm not good enough" overshadow my belovedness in God.

Don't let go of God's hand.

Don't forget I am a child of God.

Plus – Don't forget to smile.
How about you? What would you add to your Don't List?