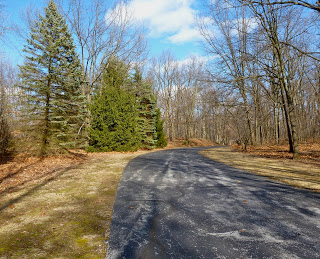 My husband and I traveled last week in Arizona.
We didn't know the roads or what awaited us beyond each turn in the road.  But we were loaded down with all the essentials to find our way: our GPS unit, one city and two state maps, plus the one sheet map given to us by the rental car agent. I brought along the AAA Arizona guidebook, several dozen brochures, and two sheets of Google map directions.
We only got lost twice. Not bad for two Midwesterners exploring the west.
I wondered what I bring along to help me find my way on my spiritual journey.
Reflecting on this last night when I couldn't sleep (my body was tired, but my mind still believed we were in the Pacific time zone) I began a list of what has helped me grow closer to God and ideas of some tools God may be inviting me to use before I get lost or stuck on a long dusty detour.  The first five I do okay with, the last five I have far to learn yet and need more practice:
1.
Sitting with the Sacred
– Prayer is an essential to any soul traveler. We engage in precious conversations with God, expressing our feelings, our dreams, our perceived needs. We lift others up into His light then sit silently listening and gazing at His loving face. Time spent in being with God provides strength, direction, and nourishment for our journey.
2.
Study
– God's AAA guidebook for living this trip we are on while on earth. Studying the Bible feeds both the mind and the heart. Chewing on its words for infinite meanings and memorizing its verses allows their roots grow deep within us to stabilize us, especially during rocky times. Studying Christian classics and current readings also give light to our path. And don't forget to study nature and creation – God's nonverbal language of love.
3.
Share
– God planted each of us in community and we need community for safe travel. We commune with Him as we worship side by side with friends and family. We support one another. We listen, even to complete strangers' stories. I know participating in group spiritual direction more than once has redirected my path and given me insights into my struggles. Reading fellow bloggers' words of wisdom and honest reflections of their lives keeps me on track too.  Like the voice in my GPS unit, having someone give us directions guides our way.
4.
Scribbling
– Many of you know I love writing in my journal, but next to prayer, writing out my prayers, discernments, fears, concerns, joys, and insights continues to be a primary way for me to grow closer to God. Most of my writing is prayer but something powerful happens when I take the pen and put visible words on those pages.
5.
Silence and Solitude
– Like peanut butter and jelly, these two could be separate items, but for me they go together. Getting away from the outside noise and quieting my inside know-it- all chatter, I hear God in new ways. The practice of having daily quiet time and yearly going on retreat is necessary for me. To be honest I fail
some
many days and this last time it took three years before I recently spent four days at retreat, but God waits nevertheless. "
Bidden or unbidden, He is there."
6.
Service –
God calls us first to be, then to do.  Too often I rush into the do without the being. As I have tried to be still more, listen, and obey I find myself full of good intentions that never go anywhere. We are called to be the hands of Christ and I know God is inviting me and all of us, to serve Him more by helping those in need. My prayer is to see Christ in whomever is in front of me and be Christ for that person.
7.
Stop –
Many trips contain planned and unplanned stops. Pausing before entering most intersections is a safe way to travel: so it is true on our spiritual journeys.  Waiting for God to show us the way is frustrating at times but often He wants us to wait for His timing.  "
But I want to go on, Lord and get going
," I whine. A word I am pondering this year is discernment.  I am learning halting my to-do list, reining in my urge to accomplish and letting God be God, not me – is difficult but a part of the journey. Most trips have times of dry scenery, bad roads, or boring turns – sometimes those detours become fun adventures.  I hope someday I can truthfully say I found joy and peace on waiting on God – a lesson to learn yet.
8.
Simplicity –
another growth area for me. I take along too much stuff when I travel. We recently bought a new set of luggage – ultra light ones (so I can pack more, right?) that came with a light indicator if the weight exceeds 50 pounds. I struggle with extra baggage on my spiritual journey too – lugging along opinions and beliefs, anger and discouragement and possessions I really think I will need someday  – all burdens that weigh me down.  God is inviting me into simplicity.
9.
Smile –
Smiling, even when you don't feel like smiling, lifts the spirit. So I practice smiling even to myself.  I also engage in cloud watching or as I call it cloud chasing ( Now there is a book idea I want to write). The very act of lifting my eyes upward raises me heavenward and my spirit soars. Worship moves me the same way by reminding me to keep my eyes on God, not my ego or my problems. Practicing joy and gratefulness are keys to healthier journey.
10.
Surrender –
Will I ever learn to have an undivided heart and be completely devoted to our Savior? This is my heart's desire and the gas, the power, the Spirit that drives me to my final destination. Loving God with our entire hearts, minds and spirit takes surrender. I have lots to learn in this area yet.
So I have these ten necessities packed in my bag and ready to go around the next turn in life.  I use some of these supplies daily and frequently.  Others are buried deep in my backpack and are squirming to get out and show me the way. 
What provision helps you on your journey?