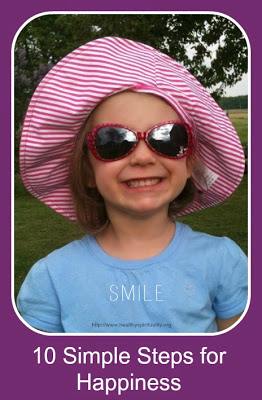 Researchers are identifying common ways to build more happiness in life. I recently read an article that listed ten ways to move towards more joy and was fascinated how simple and short these were. Here is the link to the full article about the 10 simple things you can do today that will make you happier, backed by science.
Why do I want to make everything more complex and difficult? I have been pondering this and concluded I am really just seeking excuses. "Of course I would be happier if only I could do that impossible thing! But it is too hard so I will just stay here permanently in Whiney Ville and wallow in my sorrow."
Here is the list and I think you will see just how simple these actions are:
1. Exercise more – 7 minutes may be enough.
2. Sleep more – you will less sensitive to negative emotions.
3.  Move closer to work – a short commute is worth more than a big house
4. Spend time with family and friends
6. Help others – 100 hours a year is the magical number
8.  Plan a trip – but don't take one. Anticipation is as powerful as the vacation.
9.  Meditate (which I would call prayer)
 I know you will enjoy the full article with more details. I really believe number 7 – smiling works for me. Just the act of smiling lifts my mood.
I knew helping others was beneficial, but the research to pin point 100 hours or two hours a week intrigued me. According to an analysis of longitudinal data from the Assets and Health Dynamics Among the Oldest Old Study, adults over the age of 70 who volunteered at least 100 hours during 1993 had less of a decline in self-reported health and functioning levels and lower levels of depression and mortality in 2000 than those who did not volunteer. A second study of the Assets and Health Dynamics Among the Oldest Old Study also found a correlation between volunteering in 1998 and better health and lower mortality rates in 2000 among those individuals born before 1923, even when controlling for previous health conditions. Those who volunteered for at least 100 hours per year were two-thirds as likely as non-volunteers to report bad health, and also one-third as likely to die.
 I guess growing older can't be an excuse either. HA!
Made me wonder what would I add to the list? 
So does playing with my grandchildren – that certainly is a heart lifter!  
The last few years just appreciating and contemplating God's wondrous creation brings me to an inspirational awe.
We do have the choice and God does delight in seeing us filled with joy.  Too often we neglect or reject this gift.
What simple way helps you find more happiness?