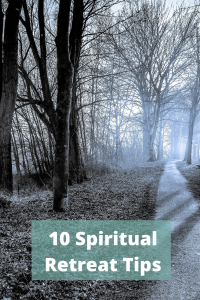 Interested in spiritual retreat tips?
I recently blogged about my usual way of going on retreat – in a group at a retreat center – and how Covid had cancelled all these types of events. I then scheduled my own retreat at a hermitage. While there I noticed insights that I thought may be useful to you for your next retreat. Paying attention is a key practice all the time as his presence coats all our times and he is so willing to show us his lessons.
Here are a few photos of the hermitage at the Lady of the Pines, Fremont Ohio and 10 spiritual retreat tips.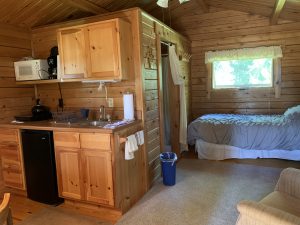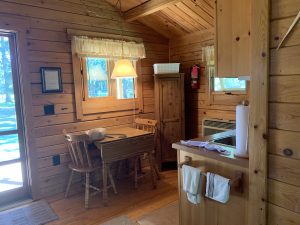 10 Spiritual Retreat Tips
Give yourself grace – Every retreat I have participated in, this one included there is a time to slowly let go and enter into the stillness and silence.  I forget the outside noise and inside chatter need time to slowly drip away and space for quiet and God to gently appear.  The first evening and some of the first full day becomes the entrance way, the threshold, the first step in loosening my grip on the world and resting in God's arms.
Listen deeply – I take note of images, words, and nudges that shimmer in the stillness. The first evening as I sat savoring the quiet in the hermitage my eyes kept returning to the small table with two chairs.  Something wasn't just right. I rearranged the chairs and lifted the table leave to expand the space. I set up my small altar with the few items I brought from my home altar and lite the battery-operated candle.  I asked God to bless this space. Ahh, peace.
Set aside distractions.  I don't know about you, but I have the horrible habit of carrying my phone or having it nearby.  Habit or addiction, its presence represents busyness, commotion, and interruptions.  I promised myself no game playing while on retreat and only to check emails once a day.  I did carry my phone while I walked using it to capture photos.
Move – speaking of walks, yes, I took frequent walks. Precious time with God, nature, and felt good to move.
Rest – The spiritual practice of napping is essential and often quite needed on retreat. Give yourself permission to rest.
Companions – Who has God sent you to accompany you on this retreat?  Each walk I smiled at the deer. In the center of the labyrinth, five large sitting rocks invited me to pause and pray.  One seat for me, three for the Trinity but who sat waiting for me on the fifth rock? I didn't know until the end of the retreat when God reminded me that a "great cloud of witnesses" walked with me and offered wisdom through their writings and prayers. We are not alone on this journey.
Spiritual Direction – I was able to schedule two meetings with my spiritual director who lives near that retreat center. To be able to talk aloud with another companion and receive guidance enhances my time with God. Knowing I was lifted up in prayer by her and by many of you too also provided light for my way.
Gratitude – Being thankful is a powerful practice – exercise your gratitude muscles frequently, not just on retreat but every day.
Scripture. Often several Bible verses arrive to my heart before the retreat. Sometimes my spiritual director offers a few suggestions.  Neither happened this time. Nothing clicked for several days. I listened.  I lingered in God's word. Slowly Psalm 16 emerged and I prayed its words often and still am now that I am home. Well worth the wait for the right Word but I was impatient with the delay. 
The Unexpected. Be open to God's unexpected gifts. I hold a daily schedule lightly and listening closely as I try to follow God's lead throughout the retreat. Wish I could do this as intently at home with daily life's noise, distractions and to-do's – ok, someday….  With open palms, I let go and let God be in charge. We have a gracious God who is generous and loves to surprise us with his gifts. Two new book ideas bubbled up into my heart. I sense some direction or at least the next right steps for the fall. Unexpected can be messy too. Deep wounds surfaced and were bathed in God's healing grace. Inner work can be hard and painful at times, but God never abandons us even in the dark. Retreat gives me the safe space with God to deal with buried hurts and deep uncomfortable emotions.  I don't want this fact to scare you away from going on retreat – God knows the best time and path for each of us and will lead the way.  We are safe with God as our savior and Lord.
Going on retreat refreshes the soul, grounds our feet on the Rock, and provides guidance for our journey. This is a spiritual practice I know makes a difference in my life spiritually.
How about you? What do you learn on retreat?