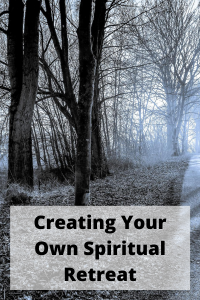 I desperately need my annual spiritual retreat. I shared a post here on Healthy Spirituality in early March about getting ready to go on a silent retreat. I craved the time away with God.  With joy, I anticipated the silence. I diligently prepared, prayed, and planned.
Things don't always turn out like we want or need, do they?
Need I say more than one word: Covid.
Retreat canceled.
Actually, my retreat was one of the first things to be scratched on my filled calendar and came as a shock. Looking back its deletion was the first domino of a string of tumbling that continues to fall.
Creating My Own Retreat
I have retreated at home in the past (see this blog post for some ideas) but getting away to a quiet area offers more depth for me. I am a spiritual director and have several directees creating their own retreats. One in a cabin he owns in a woods. Another at home. They inspire me.
I called the retreat center and found out while they were not hosting formal larger retreats, their hermitage (small KOA type camping, full furnished cabins) were available. My spiritual director who lives near there was willing to meet with me – masked and socially distanced – during my time there. I was set.
As you read this, I leave today and come home Saturday. Once I return, I will be sure to share with you how this adventure unfolded.
New Normal?
I hate the term "new normal." We are all being changed by this pandemic and stretched to think and do things differently. Instead of continuing to mourn my loss of my retreat, I can be creative and ask God's help in finding a fresh approach to what my soul needs.
Control what I can control and hold loosely what I can't control. One of the primary lessons I am learning during Covid.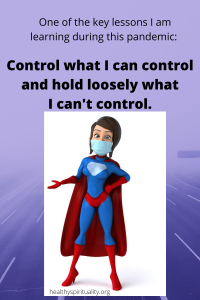 My soul loves to travel, to feed the wanderlust spark in my life, to see new country and experience an altered routine. I return, refreshed and appreciative of my home.
All our trips for 2020 have of course been canceled. Last week my hubby and I took a one-day jaunt to Frankenmuth Michigan. Then a couple days later we left on a two day overnight to a small village on Lake Michigan. We were careful and delighted to find most others wearing masks and respecting distance. Crowds were small. The beach refreshing. Time away, though different, still fed my soul.
We can't control most of what happens in life, especially now but with God's help, a dose of creativity, and some identification of what nourishes life within us, we can find refreshment for what we are missing and thirst for.
How have you creatively filled the void of cancellations during Covid?  What gives you life?