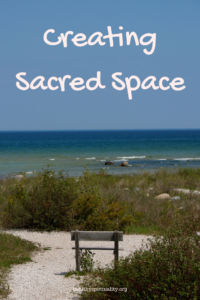 Ready to explore outer space?
No, Healthy Spirituality has not been taken over by aliens from a distant planet.  
This month's our Tending the Holy Thursdays series is exploring the practice of creating sacred space. Each month on my Thursday posts, I pick one theme (or person of faith) to explore deeper.
Last week we delve into what sacred space looked like and next week I will write about internal sacred space. Today is finding the sacred in the external, the outer spaces of our lives.
Your sacred space is where you can find yourself again and again. — Joseph Campbell
As usual, I wrote a free download to accompany this study, titled "10 Tips for Creating a Sacred Space at Home," with suggestions for forming a space in your home and even some blessings for your area.  You can get this PDF at no cost by clicking on the button at the end of the post. It is my hope and prayer that this series and the download will enhance your walk with God.
Be sure to sign up to get Healthy Spirituality in your inbox so you don't miss any of the weeks (I promise I never over send stuff to you). And invite your friends to this blog and share on social media.  I sure do appreciate the support in spreading God's word.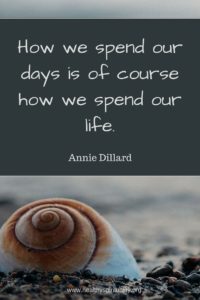 Creating Outer Space – Outer Sacred Space
Being observant where we can find the external margins in our daily living will show us places to intentionally make more room for the sacred in our lives.  Take a moment to inventory how you spend your time, how to plan your calendar, and how you use the physical space in your home.  These three areas provide opportunities for uncovering our outer sacred spaces.
The Outer Space of Time
I've mentioned before I love reading, learning and trying new methods of productivity. HA – as if little ol' me, a mere human, can actually control time.  The concepts of  time management, improved efficiency and the quest for perfection drive many of us.
The reality is I waste time. This precious gift of God often dwindles due to Angry Birds, house buying on HGTV and watching the latest cat video on social media.  I fully believe we all need some mind breaks but if I am honest, what I think will start as a small 10-minute break transpire into an hour or more down the bottomless rabbit trail.
On my journey in exploring sacred space, I come face to face with the truth that most of the time I work responding to the urgent, not the important. My deepest desire is to spend time with God, being in his presence, listening and loving him. That is the essential ingredient in my spiritual walk.
Too often we allow the urgent to determine our life and how we will try to fit God into our schedule.  The truth is God is here now, waiting and wanting and open for us to enter into HIS story.
Prayerfully I have set my overarching priorities in life:  God first, followed by family/friends and my own self-care. Using these three points as the framework, the important things in life become clear.
I ask myself if I am reacting to the urgent. The loud demands of life or choosing what is important sets the whole tune of the day for me.
The important, the priorities of life take slowness and is deep work. (Jean Wise)
Cal Newport has a great book called Deep Work – Rules for Focused Success in a Distracted World.  His words made me realized there are two levels in life:  one necessitating time, slowness, depth and others you can speed through.  Two separate entities, categories of my time, and they both require different approaches.
God, my family and my self-care require my full focus and energy.  Slowing down to be with God comes first.
The dilemma is finding the space in our crazy daily schedules for moments to slow down. We take off most mornings like a downhill skier, right out of the shoot and don't stop till we hit the bottom of the day. 
The key tool in finding space is to pay attention. Step back and assess your day.  Where could you take a moment to be with God?
Sometimes the most important thing in a whole day is the rest we take between two deep breaths.
Etty Hillesum
Becoming aware of your natural breaks in your time. 
Many of you have heard of the Pomodoro technique for time management.  You work for 30-50 minutes, then take a ten-minute break. This method has proven very successful for productivity and in fact I am using it right now to write this blog post.
What do you do on those breaks?  Often I stand, use the restroom, get in steps on my Fitbit, refresh my coffee…but how about taking that break with God?
Yesterday I tried this. I took a 15 work break, sat in the chair where I spend my morning quiet time with God and took several deep breaths. I set the timer, closed my eyes, centered and just rested in God. When the ticking stopped with the gentle bell, I felt refreshed and reconnected with God.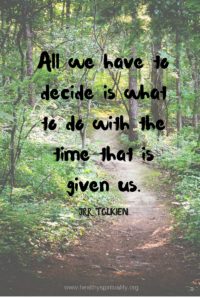 The Outer Sacred Space of Schedules
Who controls your schedule?  The reality is we do have choices.  We are not powerless.  Yes, our family and work take up much of our time, but if we step back and really look, we have options.
Don't allow busyness, speed, obligations, expectations and FOMO ( Fear Of Missing Out)  to be in the driver's seat.  They will ride along with you in the journey of life, but don't let them determine your route. 
Plan your day with intention to find the sacred. I start most days (We will never be perfect so I try for a rhythm, a pattern of regularity, not perfection in my schedule), so MOST days I start with morning devotions.  A chime rings on my always nearby cell phone at 12:30 to remind me to reread my Bible verse for the day.  Another beep at 2:30 to help me remember to say thank you to God. Often in these two moments, I briefly look outside or at a loved one face, and smile.  Smiling at life; smiling with God.

The Outer Space of Sacred Place
This month's free downloadable PDF focuses on 10 ideas for creating a sacred space at home. I encourage you to check it out for more ideas.
The actual space I work in also lends itself for exploring sacred space. The window by my desk opens to the view of the flowers in my backyard in the summer, the blue sky with white puffy clouds racing by, and tree branches dancing with the wind. As I write this blog post, I enjoyed a red headed woodpecker enjoy the suet on the deck railing.  Just a few moments of looking outside, thanking God for his beauty and praising his creativity nourished my spirit and my office transforms into a sacred place.
I have mentioned previously that last year I created a small altar in my office too. A cross, candle and few personal symbols rest on the top of a small chest of drawers and is the focus when I sit in my reflection chair. I discovered creating a sacred space at home helps me to experience God more deeply and settles me into a listening mode rather than a "tell God what he ought to be doing" approach.
In pondering the combination of my time, my schedule, and sense of place for the sacred, I just booked my annual silent retreat for the end of March. I learned a long time ago my soul needs an annual extended time with God. This year I am also enjoying quarterly half day "desert" days to be with him. These times of solitude and silence ground me, realign me with what is important and help me discern and hear where God is leading me – all sacred spaces.
Sometimes a longer period of solitude like a spiritual retreat is in order.  Check out my book about this topic here called Spiritual Retreats: A Guide to Slowing Down to be with God.
 There are no unsacred places; there are only sacred planes and desecrated places.
Wendell Berry
Don't forget I created a free download to accompany this topic called "10 Tips for Creating a Sacred Space at Home," You can get this PDF at no cost by clicking the button below.
Where do you find outer sacred space?