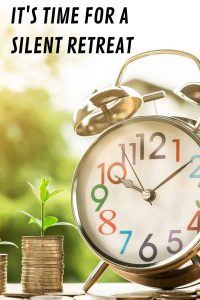 Attending a silent retreat is a primary spiritual practice of mine. I hesitated when going for the first time in 2004 and was filled with fear and anxiety. Four days of not speaking???? What would I do? The void threatened my soul. I felt vulnerable, almost naked without the cushion of noise and the comfort of busyness to protect my ego.
But not only did I survive, but I also heard God in newer and deeper ways.  As I kept track of my journey in my journals each time, God gently unfolded my heart in a fresh way and touched me with his healing love.
One year I skipped this practice and as that year progressed, I felt restless, uncertain and longed for time – silent time – alone with our Creator. I have never missed an annual retreat since then and make scheduling one a priority every year.
I leave this coming Thursday through Sunday for my next retreat at a retreat center about an hour from my home. I haven't been to this center in quite a while so I am looking forward to exploring the area once again. And exploring my soul's interiority too.
I have several past blog posts about retreats such as this one if you want to read more.
Ever been on a silent retreat? Several years ago, I wrote a small book about this practice – Spiritual Retreats – A Guide to Slowing Down to be with God that is still available on Amazon. 
This practice means so much to me I made a gift for you.  I created a special free handout for you – Pausing to Prepare – 5 W's of Preplanning for a Silent Retreat – available at no cost by just clicking the button below.
Seven Thoughts about the Practice of a Silent Retreat
Nothing is so like God as silence.
— Meister Eckhart
Silence is God's first language; everything else is a poor translation. In order to hear that language, we must learn to be still and to rest in God.
— Thomas Keating
Silence of the heart is necessary so you can hear God everywhere — in the closing of the door, in the person who needs you, in the birds that sing, in the flowers, in the animals.
— Mother Teresa
A spiritual retreat is medicine for soul starvation. Through silence, solitary practice, and simple living, we begin to fill the empty reservoir. This lifts the veils, dissolves the masks, and creates space within for the feelings of forgiveness, compassion, and loving kindness that are so often blocked.
— David A. Cooper
Be still, and know that I am God –Psalm 46: 10
Silence isn't empty, it's full of answers. – Anonymous
I ask for your prayers for my time away. Don't forget your free resource below.
Have you ever gone on a silent retreat? Why or why not?