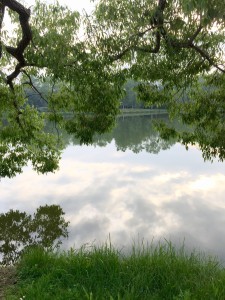 Why in the world did I sign up for such a long retreat? This is exactly what I lamented a couple of weeks ago as the retreat I registered for many months ago loomed and interrupted my summer plans and activities. Eight days is a huge chunk of time and energy away from home, family and my precious to-do list.
But my mind was hungry to learn. My heart needed refreshed. My spirit parched. And God called.
I am so grateful for the time away with God. My mind has been stretched, encompassing new thoughts. My heart nourished and my spirit drenched.
The retreat was presented by Louis Savary, a former Jesuit and author who shared ideas from his latest book, The New Spiritual Exercises – In the Spirit of Pierre Teilhard de Chardin.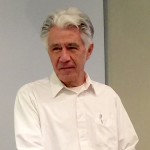 The format of the retreat was a wonderful mixture of time learning, time of private pondering, journaling and prayer and time to share in a small group. Louis rarely talked more than 30 minutes on an idea, gave us ideas for something to work on, and made himself aailable for questions throughout the week. We met twice a day in small groups for sharing and exploring together but the reminder of the time we were silent. What a balanced mingling of learning, listening and calming quiet. The perfect cocktail for spiritual growth.
Why do I intentionally seek and attend retreats one or twice a year? Here are five reasons I reflected on as I drove home Sunday from this event with overwhelming gratitude that I said yes to "such a long retreat."
Sustained – Spending time with God clearly tells me who I am – his loved child. I crawl into his lap and listen to his heartbeat. I shed the mask that the world mostly sees and remember how much God loves me, all of us. I renew my commitment to tell others his good news and continue to learn to love as God loves. That is our primary mission here on earth – to learn to love like God loves. I needed to be reminded of that.
Strengthened – I am always amazed to hear at retreats just the right words/inspiration I need. Often the message may not be what I expect or even want to hear – but I know truth when it rings in my soul and soothes a hurting spirit. I faced my trembling fear of the growing complexity of the life when God reminded me he is with me, he will never leave me and all these amazing intricacies add beauty and richness and depth to the world. I embraced and am empowered by God's daring optimism – He will win – the only action the devil can do is delay or temporarily disturb his plans. God is victorious.
Stretched – I am far from an expert in Pierre Teilhard de Chardin (I still have trouble even pronouncing his name) and my knowledge and application of Ignatius' Spiritual Exercises is minimal. But I am enriched by knowing a little more, have some tidbits to guide me deeper and as I walked with them, experienced a wider perspective on spirituality and life. I am challenged now on learning how to live day by day, in our consumer-oriented world and with my ego barking longings. How do we combat this ever-expanding social sin? I can't just stay silent and do nothing. What is my role, God?
Shaped – At retreat I am reminded once again we ARE on a journey and we are still a work in progress. I am not the finished product, all wrapped up, done with my calling and able to sit doing nothing. The people around me are also still being completed. This time with God opened my heart to wonder – what is my unique contribution to the kingdom of God? I experienced a shift, a change in direction to my calling. I have a personal mission statement, a purpose for this blog and my writing, a rule for life. Yet I am invited to revisit those words once again and am discovering they too need revised and set loose to grow in God's ways. This will be an ongoing process for me. The work of a retreat continues on long after we come home.
Surprised – God never fails to give me unexpected gifts on retreat. I am always surprised, amazed and thankful. I delighted in new insights into familiar Bible readings this past week. I learned new ways to hear his lessons through what Aramaic words meant, the gift of imagination, and sharing among new friends, walking through the same scenes from the Bible. I loved when Louis Savary offered clear examples of complicated concepts. For example he shared he sees the Trinity as God, the lover, Jesus, the beloved and the Holy Spirit as the love flowing between them as a divine energy.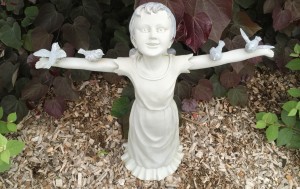 I realized that every time at retreats, a new prayer bubbles up between God and me, a priceless gift from God. This is the blessing I heard last week:
Let my peace be on the tip of your tongue.
Let my healing be in your every touch.
And let my love radiate from your eyes and heart.
May this blessing be on each of you too.
Do you practice going on retreats? How does it transform you?