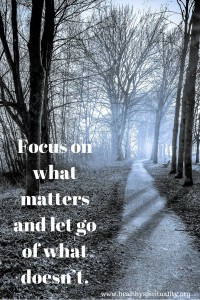 Do you have a Rule of Life? A Rule of Life is identifying the essential spiritual elements in how you feel God wants you to live this human life. A Rule for Life is a collection of guidelines for living.
"A Rule of Life, very simply, is an intentional, conscious plan to keep God at the center of everything we do…
The starting point and foundation of any Rule
is a desire to be with God and to love him"
Peter Scazzero
For February's Tending the Holy Thursdays, we are exploring Writing a Rule of Life.  Last week we looked at the what and why about writing a rule of life and today I will share tips for writing your own rule. Next week resources, quotes, and how to live your rule as an ongoing practice will be shared.
10  Tips for Writing a Rule of Life
Immerse this whole practice from start to ongoing in prayer.

Pray, listen, read, go deep – allow the words of your own rule to slowly emerge from deep within your soul. Create time and space for it to bud and blossom. Block off time. Go on retreat. Write something initially and let it brew to full flavor. Listening and simmering are all part of the process.

Identify your key priorities in life.

What spiritual practices draw you closer to God? What spiritual disciplines is God inviting you to try? Think of it as an inventory of how you nurture a healthy spirituality for yourself.

Think about your season of life and your daily demands on your time. Pay attention to your life right now. How do your priorities and essential practices currently align with your life?

Describe your sense of balance for all the dimensions of your life? Your relationships? Your work? Your joy? Your self care? Your finances? What needs to be cultivated and what needs to be weeded from how you work and live?

Write your rule of life in positive, affirming, already occurring sentences: I begin each day with prayer and reading devotions. I exercise daily. Once a year I attend a silent retreat. I honor the Sabbath each week for rest and to worship God.

Remember to keep your rule simple and realistic yet challenging enough to stretch you to grow.

Too often we focus on the "rule" and forget the word "life."  What gives you life? How do you like to live? What is your ideal life?

Click the button below, enter your email and get the free "Writing a Rule of Life" template. I would love to have you sign up to get Healthy Spirituality in your inbox and would appreciate you sharing this info on social media so more can join our conversations.
Click here to get your copy of the Rule of Life template
A Rule of Life is a long standing spiritual practice that has helped many people live in the calling God has given them and helped them deepen their journey.
What do you think? What does the practice of writing a Rule of Life stir within your heart?