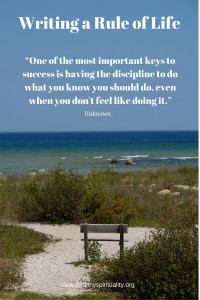 Have you heard of a Rule of Life? Have you written your own Rule of Life?
A Rule of Life is identifying the essential spiritual elements in how you feel God wants you to life this human life. A Rule for Life is a collection of guidelines for living. It can also be called a Way of Life. Its purpose is to help us keep our sense of balance by intentionally addressing all aspects of life: physical, emotional, socially, spiritually, etc.
As part of my training as a spiritual director ten years ago, we were encouraged to write our Rule of Life. I keep a copy in my journal and my bible and often look at its wisdom. Am I adhering to my basic beliefs and do my thoughts and behavior mirror them? Over the years, I have revised them, but amazingly they are quite similar to what I originally wrote. I find having a Rule of Life helps me refocus on my deepest desire – to be with God, learn to love like him, and to serve him as he calls me.
On Tending the Holy Thursdays, I present a topic that we can discuss over several weeks and explore various spiritual themes in a deeper way. The next three Thursdays let's look at Writing a Rule of Life.
We will start with what a Rule of Life is and why would we want to create one. Next week I will offer specific tips on writing your Rule, what elements do you want to consider and give examples. On the last week resources, quotes, and how to live your rule as an ongoing practice will be shared.
Ready? Let's discover and explore together.
What is a Rule of Life?
A Rule of life is a simple and flexible tool to guide how you want to intentionally live your lif.
Living by a rule of life has been a Christian practice since the early centuries. Rules for living grew out of the monastic movement to help monks continue to grow spiritually while in community. Pachomius, who lived in Egypt between 292 and 346 AD, wrote the first known rules. Daily prayers were a foundation for his guidelines.
The best-known Rule for Life is the Rule of St. Benedict from the 6th century.
What are the spiritual standards/practices you want to use to rule or regulate your life?
Perhaps rule is the wrong word – it sounds rigid and harsh. Think of a Rule of Life as a framework to direct your actions. I see my rules as a gentle boundary to help me stay on the path I feel where God is leading me and to stay close to him.
A Rule of Life is not constrictive but permissive – it creates an environment to live with purpose and clear intentions.
If you don't like the term Rule of Life, you might think of these elements as a spiritual manifesto, a statement of beliefs, or a proclamation on how you want to live. I see it as a framework for a healthy spirituality.
"A Rule of life is a pattern of spiritual disciplines that provides structure and direction for growth in holiness…it is like a trellis, (it) curbs our tendency to wander and supports our frail effort to grow spiritually."
Marjorie Thompson
"I will instruct you and teach you the way you should go; I will counsel you with my eye upon you."
Psalm 32:8
Why Have a Rule of Life?
Here are some benefits of taking the time to write a Rule of Life and then living by them:
Conversion – A Rule of Life forms and transforms us. It helps us with life's ongoing and most essential questions: Who am I and how do I want to live? As we grow closer to God and live as he calls us, we are shaped by his guidance and molded into his image.
Clarity – spending time doing inner work provides clarity for even in times of foggy confusion. It is like having a map to use when we are lost.
Consistency – knowing my values and how I want to live helps me establish routines that provide continual nourishment for my spirit. I can sense earlier if the "well" is beginning to run dry. The Rule also help me stay accountable to myself and my surrender/commitment to God.
Calibrate – A Rule of Life sets me in the right direction and reminds me who God is, how he wants me to live and what he put into my heart. I fail many, many times to follow these rules, but I found they give me guidance, call me back to my core beliefs, and refocus my desires on God when the world and sin distract me.
"I prefer the language of rhythm because it speaks of regularity that the body and soul can count on but it also speaks of ebb and flow, creativity and beauty, music and dancing, joy and giving ourselves over to a force or a power that is beyond ourselves and is deeply good. Over time, as we surrender ourselves to new life rhythms, they help us to surrender old behaviors, attitudes and practices so that we can be shaped by new ones."
Ruth Haley Barton
I have posted about the Rule of Life previously on this blog and you might enjoy reading those posts: Gibb's Rules – God's Rules and Follow the Rules.
Also I recently developed a free template to guide you as you explore this faith practice. You can get "Writing a Rule of Life Template" by clicking on the button below and I will email it to you. I would love to have you sign up to get Healthy Spirituality in your inbox and would appreciate you sharing this info on social media so more can join our conversations.

Have you written a rule of life? How do you think this practice will nurture your faith?