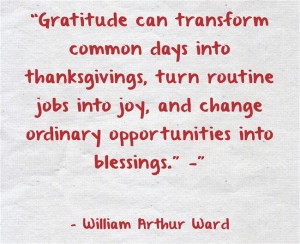 "Gratitude can transform common days into thanksgivings, turn routine jobs into joy, and change ordinary opportunities into blessings."
— William Arthur Ward
I read a blog post the other day about ordinary things that makes us happy. His words stuck with me, opening my heart and eyes to the everyday things that bring me joy and fill me with gratitude.
The process of creating this list didn't take long – I was amazed at the simple steps in each of my day that I truly enjoyed. I realized how rich I am with these simple pleasures.
The smell of coffee in the morning, any morning, even the hottest morning. Just the aroma perks me up.
Refreshing lemon in my water.
The wonderful taste of chocolate and mint melting in my mouth.
Snuggling into the bed to get cozy at night.
The birds outside my office window.
The giggles and laughs and phone calls of my grandchildren.
The painting at our church which draws me into deeper worship. 
My journals with tattered edges from love. highlighted in an array of colors and stuffed with clippings of inspiration. In case of fire, grab the journals and my Bible, please.
Shooting stars. I love getting up in the middle of the night when meteors are predicted. There I am at 2 am, laying outside watching expectantly for them. Of course this occurs in summer, not the cold winter time in Ohio. I'm not THAT crazy… or am I? Ha!
A great quote that lingers in my soul.
As much I dislike winter, I love seeing the empty nests in bare trees, knowing they are awaiting new life.
I love checking off items on my to-do list and the satisfaction that comes with the feeling of accomplishment.
I am beginning to learn that it is the sweet, simple things of life
which are the real ones after all.
Laura Ingalls Wilder 
What ordinary things are you grateful for in your daily living?