12 Quotes from Dorothy Day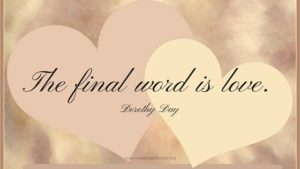 For May's Tending the Holy Thursday theme where I delve into a topic or a person of faith for several weeks, we are looking at the life and words of Dorothy Day. Today I am sharing some of her quotes and then next week we will discuss what her life means to us today.
If you missed the introduction about this fascinating Christian woman, here is the link for the first in this series.
Remember I created a free Reflection Guide for you to download by just clicking the button at the end of this post. I think this guide would be great to copy and keep in your journal for further contemplation. It has several quotes divided by topics, followed by a writing/reflection prompt and questions with space to write.   I hope it blesses your journey with Dorothy.
Dorothy Day Quotes
"I have long since come to believe that people never mean half of what they say, and that it is best to disregard their talk and judge only their actions."
******
"I really only love God as much as I love the person I love the least."
******
"Don't worry about being effective. Just concentrate on being faithful to the truth."
****** 
"Love and ever more love is the only solution to every problem that comes up.
If we love each other enough, we will bear with each other's faults and burdens.
If we love enough, we are going to light a fire in the hearts of others.
And it is love that will burn out the sins and hatreds that sadden us. It is love that will make us want to do great things for each other. No sacrifice and no suffering will then seem too much."
****** 
"We must talk about poverty, because people insulated by their own comfort lose sight of it."
 ******
Love casts out fear, but we have to get over the fear in order to get close enough to love them.
"What we would like to do is change the world–make it a little simpler for people to feed, clothe, and shelter themselves as God intended them to do. And, by fighting for better conditions, by crying out unceasingly for the rights of the workers, the poor, of the destitute–the rights of the worthy and the unworthy poor, in other words–we can, to a certain extent, change the world; we can work for the oasis, the little cell of joy and peace in a harried world. We can throw our pebble in the pond and be confident that its ever widening circle will reach around the world. We repeat, there is nothing we can do but love, and, dear God, please enlarge our hearts to love each other, to love our neighbor, to love our enemy as our friend."
****** 
"My strength returns to me with my cup of coffee and the reading of the psalms. "  
****** 
"People say, what is the sense of our small effort? They cannot see that we must lay one brick at a time, take one step at a time. A pebble cast into a pond causes ripples that spread in all directions. Each one of our thoughts, words and deeds is like that. No one has a right to sit down and feel hopeless. There is too much work to do."
****** 
"Maybe I was praying for him then, in my own way. Does God have a set way of prayer, a way that He expects each of us to follow? I doubt it. I believe some people– lots of people– pray through the witness of their lives, through the work they do, the friendships they have, the love they offer people and receive from people. Since when are words the only acceptable form of prayer?"
****** 
"If I have achieved anything in my life, it is because
I have not been embarrassed to talk about God."
****** 
"Writing is hard work. But if you want to become a writer you will become one. Nothing will stop you." 
Please download the free Dorothy Day Reflection Guide by clicking the button below. And spread the word to your friends, inviting them to visit here. As I mentioned last Tuesday, you may get an odd message when you click for the download.  I apologize. If you already subscribe to Healthy Spirituality you may get a message that you are already subscribed, but never fear – your free download will come quickly after that message to your inbox. I have no idea if that glitch is corrected yet as techy isn't not a strength of mine. So sorry for the confusion, please give me grace and lots of Dorothy Day style love.  LOL 
Click Here to Get the Guide

Which quote resonated the most with you?  Do you have another favorite quote from Dorothy?