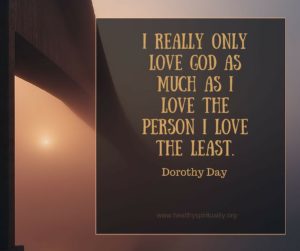 Dorothy Day
Dorothy Day has been my companion for more than 10 years now.  I always learn something from her.  Her social justice beliefs and how she lived every day following the Sermon on the Mount yanks me from my comfort zone and makes me question if I do enough, speak up enough, give enough. She inspires me to seek God and follow him in deeper ways.
For May's Tending the Holy Thursday theme where I delve into a topic or a person of faith for several weeks, we are going to look at Dorothy Day. Today I will share some of her background, next week will be rich with her wonderful, challenging quotes to consider, then the last week we can discuss what her life means to us today.
I created a free Reflection Guide for you to download by just clicking the button at the end of this post. I think this guide would be great to copy and keep in your journal for further contemplation. It has several quotes divided by topics, followed by a writing/reflection prompts and questions with space to write.   I hope it blesses your journey with Dorothy.
Who was Dorothy Day?
Born November 8, 1897 in Brooklyn NY

Moved to Berkeley California, then Oakland at age 6

When she was 8, her father lost his job due to the San Francisco earthquake and she remembered helping her mother and the neighbors with the homeless

They soon moved to Chicago for the next 12 years.

She grew up in a middle class very conventional home during the period before World War I.  The family valued reading, education, and writing. Though they claimed to be Protestant, they seldom attended church.

At age 16 she won a scholarship and enrolled at the University of Illinois

During the two years at the university, she began her journalistic career and developed a growing awareness of social conditions.  She observed the disparity between the lives of rich and poor and soon joined the Socialist party

At age 18, her family moved to New York and she took her first job at a socialist newspaper.  Her friends were socialists, communists, labor organizers, free thinkers and anarchists opposed to the draft and the entry of the United States into World War I.

Dorothy's' first jail experience occurred when she accompanied women suffragists to the White House to protest the treatment of other suffragists in jail.  While in jail, she joined a hunger strike and wrote that she mourned the enormous evil that human beings can inflict on one another.  She read the Bible again and took comfort in the Psalms, but again turned away from religion after the hunger strike. This experience moved her from observation to participation and from being a passionate idealist to action.

During these years, Dorothy lead a bohemian lifestyle that she later described as dissolute, wasted, full of sensation and sensuality. 

After the suicide of a close friend, she began to study nursing but after a difficult year, she left nursing to return to writing.

She had relationships with several men and after becoming pregnant, she had an abortion when she feared that the man she loved would leave her.  The man deserted her anyway. 

She would occasionally visit churches. She said she felt haunted by God.

In New York, she entered into a common law marriage with Forster Battingham, a biologist whose shared political views with Dorothy.  She later identified this time as peaceful and happy and she began to think and consciously to pray more. She would say the rosary and began to attend Sunday Mass.

She became pregnant which her husband opposed. Between her growing interest in religion and her pregnancy, more conflict arose between the two.

During her pregnancy, Dorothy decided she wanted to have her child baptized. She thought that would give her child the order lacking in her own life.

Her daughter was born and named Tamar Teresa.  She had her baptized Catholic since she had seen so many people in so many cities go to Catholic churches.

In 1927 after about a year of growing tension, Forster left and now Dorothy was alone to raise her daughter.

In December 1932, The Catholic magazine, the Commonweal, commissioned Dorothy to write an article about a hunger march on Washington DC.  The experience deeply moved her.  She went to the national shrine of the Immaculate Conception and offered up a prayer "with tears and anguish, that some way would open up for me to use what talents I possessed for my fellow workers, for the poor"

When she returned home, she met Peter Maurin.  He was French and they shared many of the same views.  He was inspired by St Francis to live a life of voluntary poverty, and was determined to popularize the social doctrines of the Catholic Church.  His vision was houses of hospitality where works of mercy could be performed.  He proposed to promote this idea by publishing a newspaper for the people in the street. 

His philosophy was that all people share a common humanity and each of us become who we are meant to be by assuming personal responsibility for our brothers and sisters in need.

They were a good team, Peter was the idea man, the visionary and help Dorothy grow in faith.  Dorothy was practical and action oriented. 

On May 1, 1933, during the Great Depression, the first issue of the Catholic Worker was released. It succeeded and circulation jumped to over 100,000 by the end of the first year as it began to spread nationally

The first house of hospitality soon opened in New York and a new national movement began.  Within a few years, 33 Catholic worker houses and farms were throughout the country.  These houses provided food and shelter to people suffering through the depression.

Dorothy wrote about the condition of poor people, especially about workers and the labor movement.

Dorothy continued her pacifist stand during the Spanish Civil War and leading up to and including World War II. 

After WW II, only 11 houses still carried on.  Catholic Worker newspaper still published but circulation dropped considerably largely due to her pacifist stand.  The paper now took on critiquing industrial capitalism and advocating for workers' rights.

Since Hiroshima, Dorothy has been adamant against the atomic bomb.  In 1955, Dorothy and others led protests against NYC's civil defense law.  They said civil defense drills deceived people in thinking they could actually survive a nuclear attack.  Dorothy was jailed three times, once a month, for protests during this time.  From this experience, she wrote strong articles about life in prison.

She published her autobiography, the Long Loneliness in 1952

During the Vietnam War, Dorothy actively supported conscientious objectors and advocated only nonviolent protest.

During her life, she was shot at, called a communist, jailed and investigated repeatedly by the FBI

In the 70s, even with failing health due to heart failure, she went on a world tour, journey to Russia and met Mother Teresa in India. She was widely known and honored for her work for peace and justice

In 1973 at age 76, Dorothy jointed Cesar Chavez and the United Farm Workers for a non-violent demonstration against the Teamster Union. She was arrested and jailed for 10 days.

She had a heart attack in the fall of 1976 and was basically confined to bed where she continued to write a few letters. She died November 29 1980, at age of 83.

So many people came to her funeral in NYC that many had to stand outside on the sidewalk. Her gravestone has engraved on it a design of loaves and fishes and the words "Deo Gratias" ("thanks be to God").
How I "Met" Dorothy Day    
I wrinkled my nose and shook my head in disbelief as I read the life of Dorothy Day. This is going to be a very long two years studying the life of this woman so different from me. Maybe I should switch to another inspirational spiritual person.
In the first year of my two-year program to learn to be a spiritual director, each of us chose someone from history to be our spiritual mentor. We studied their lives. Read books about them. Gave presentations about how they discerned God in their moments and how walking with someone of faith changed our own spiritual journey.
My instructor suggested Dorothy Day to me. I recently found information about my great Aunt Anna whose life paralleled Dorothy's, so at first she sounded like a good idea. But as I learned more about Dorothy's early life – she was nothing like me. Please let me switch to someone else.
I read about her life as young writer/journalist, living the bohemian wild life of the 1920s – with drinking, smoking, hanging out with anarchists, Socialists, and Communists. She got pregnant and had an abortion. She walked in protests with women suffragists and was arrested. She later lived with another man and had daughter out of wedlock.  Why am I spending time with this person?
Have you ever read the Hound of Heaven? The poem describes how God continual searches for us throughout our lives and wherever we stray.  Dorothy loved this poem and how the Hound of Heaven weaved His love into all the threads of her life. Her family rarely attended church, though she occasionally participated in some practices. She looked back and even in her darkest times, God still loved her and waited for her to return. I began to listen to Dorothy on a new level. 
The birth of her daughter changed everything and when she decided to have Tamar baptized, her common law husband left.  Dorothy made the choice – she would live for God.  Mmmm, maybe I could learn something from her.
Always with a heart for social justice, she continued to work for the poor and for peace. She often would speak at large events during the afternoon and spend her evenings serving soup and scrubbing toilets. She lived a life of voluntary poverty.  Her humility and deep commitment to follow Jesus' teaching touched my heart.
Dorothy followed Jesus by taking to heart the message in the Sermon on the Mount. She served others in poverty and loved the poor, rejected, marginalized in life and actually followed what Jesus taught.  She measured her life in how she fed the poor, gave drinks to the thirsty, welcomed the stranger, clothe the naked, cared for the ill and visited those in prison. 
Loving your enemy and practicing non-violence are not always popular decisions. Many people disliked her stance for peace during World War II and her later protest against nuclear weapons and marches for civil rights. Yes, even in her later years, she spent brief times in jail for her protesting.  I love her boldness!
What drove this woman's passion?  Dorothy spent time in daily prayer, worship, fasting, and studying the Bible. In her later life she often went on retreats and encouraged others in this practice. A person of holistic spirituality balances the inner nurturing of the soul with the serving of others, all grounded in Jesus' words.  Mmmm, I am learning much from this woman and identifying with her journey.
Perhaps the greatest lesson I learned from Dorothy is love. She wrote, "Love is the measure" and "Your love for God is only as great as the love you have for the person you love the least."
My journey with Dorothy began in 2004 and she now has a special place in my heart. She was fully devoted to God and followed His word with her whole heart, mind, soul and strength. She lived the greatest commandment.
Next week I will share Dorothy's wisdom in her own words. Again please download the free Dorothy Day Reflection Guide by clicking the button below.  I mentioned a few weeks ago when I shared another resource that I was working on my system so if you already subscribe to Healthy Spirituality you may get a message for you to confirm your subscription, please just ignore that email.  But if you haven't already subscribed, I would love to have you get my twice a week blog post by email.  I never spam you or bother you much, I promise. Either way, your free download will come quickly after that message to your inbox. I have no idea what I am doing wrong yet with this system, still learning and  techy isn't not a strength of mine. So sorry for the confusion, please give me grace and little love.  LOL
What do you think of Dorothy Day? What did you learn new about her life?