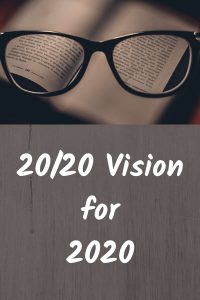 20/20 vision? Don't you love the play on this year's name? Churches, organizations, and even individuals are exploring and updating their vision and thoughtful sense of direction as we step into the new decade.
Two stories to consider as we look forward to where God may be leading us on our spiritual journey.
Story Number One about Vision
I was a chubby sixth-grader when the school nurse sent home a note saying I failed the routine eye exam. Already not very attractive and bullied for my appearance, I dreaded having to add glasses to my round face. My sight was no way near 20/20 vision.
I was not a happy gal.
Mom took me to the eye doctor and yes, the nurse was correct – I needed glasses. Remember those old-style frames with the flared upper outside edges. Ugly!
About two weeks later we picked up the new glasses and I slouched in the backseat of the car as we drove home. I lowered my head, trying to hide, fearful what others would say. The whole world would be pointing fingers at time laughing and giggling at my new frames.
I remember the next moment so clearly. I don't know what caused me to look up, but I gazed out the window.
Wow! The colors dazzled all around me.
The leaves and bark on trees amazed me.
I saw houses, fences, swing sets in the distance.
The world danced with delightful details and dramatic depth.
My eyes so gradually got worse; I had no idea how poorly I was seeing.
For the first time in weeks, I smiled. 20/20 vision clarified my point of view. Glasses weren't the end of my world – they were the opening to staggering new sights.
I had no idea what I had been missing.
Story Number Two about Vision
I remember my reaction to my new glasses this past month when I watched a series of videos about how glasses revealed the range of hues and tints to those with color blindness. Watch these videos and enjoy their reactions to seeing the world in new ways. If you are reading this only by email, you may need to go the blog to fully see the videos. It is worth your time.
What delightful reactions!
They had no idea what they had been missing!
What are we missing?
As we enter this year of 2020 vision – ponder what we may be missing.
What clutters our eyesight? Distorts our vision?
Are we seeing the world, others and even ourselves with outdated and out of focus lenses?
Is it time to remove filters and blinders that no longer clarify our point of view?
What has changed so slowly, we didn't notice the difference?
What is God putting right in front of us we rush by and barely notice?
I wrote in a previous post about the miracle of sight.
Let's ask God to open the eyes of our hearts and to heal our blindness.
18 I pray that the eyes of your heart will have enough light to see what is the hope of God's call, what is the richness of God's glorious inheritance among believers, 19 and what is the overwhelming greatness of God's power that is working among us believers. This power is conferred by the energy of God's powerful strength.
Ephesians 1:18-19 (CEB)
What are you missing?