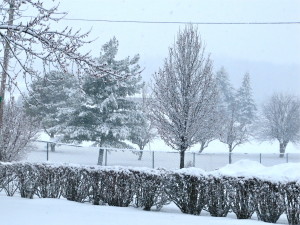 I have been pondering my point of view today. Northwest Ohio is experiencing a bitterly cold start to the New Year – snow upon snow, winds more than 40 mph and wind chills minus 40 degrees Fahrenheit.
I only can see harsh winter from my office window.
Yet a week ago I walked without a jacket in the Miami sun, cheering on my Ohio State Buckeyes at the Orange Bowl.  Quite a different perspective.
Many of you live in warmer climates. I know some of you live in other countries where it is summer, not winter.
Just because I only see miserable winter weather doesn't mean that is the only point of view.
Practicing Critical Awareness
I am rereading Brene Brown's wonderful book, The Gifts of Imperfection (more on her writing on Thursday's post). She has this quote:
"It's in our biology to trust what we see with our eyes. This makes living in a carefully edited, overproduced, and Photoshopped world very dangerous. if we want to cultivate a resilient sprit and stop fall prey to comparing our ordinary lived with manufactured image, we need to know how to reality check what we see. … Practice critical awareness."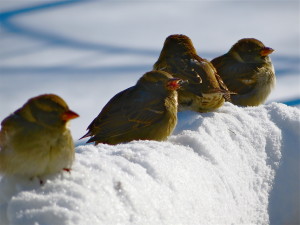 I find hope in knowing life looks different from other point of views. Only God sees the whole picture and I can trust in his care. It's hard to practice being aware of this but I am working on it.
Letting go of my assumptions creates an open mind that leads to new creativity.
Denise Shekerjian wrote, "The person who can combine frames of reference and draw connections between ostensibly unrelated points of view is likely to be the one who makes the creative breakthrough."
So I am pondering and holding lightly my point of view today. Hopefully throughout this coming year I will stay willing to see things from others people's sight, listen with more compassion and accept others as God accepts them.
Healthy Spirituality Blog's Point of View

I thank you again for reading this blog each time and joining in the conversation as we all try to find and maintain a healthy spirituality.  In this coming year this blog's point of view will try to discuss some of the issues you shared in last fall's reader survey.
Many of us identified that we struggle with finding time, keeping God as our first priority and being consistent in spiritual practices. We also wrestle with trusting God, especially in times when we can't hear him and wonder if he hears us. Quite a few of us mentioned our lack of faith and knowing God really loved us without conditions. Others brought up their desire for a deeper prayer life, being centered, living a life of reflection and letting God be God in their lives
I am also working on adding free resources to this blog to help you on your spiritual journey.  Watch for those additions.
The last piece of news to share here is next month will be the fifth anniversary of Healthy Spirituality.  I think that calls for a celebration and some type of give-away for you. More on that later.
I want to explore all these issues from the reader survey this year on this blog and learn from each other. I don't have all the answers but we can walk together on this journey and with God's help and guidance we will see 2014 with fresh eyes, new awareness and a broader point of view.
What are you seeing for 2014?