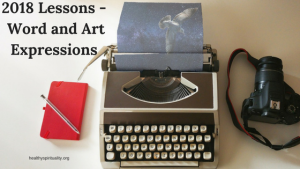 What lessons have you learned so far in 2018?
According to researchers, people quit more than 80% of all New Year resolutions by the second week in February. I find the weather so dreary this time of year in Ohio so to learn this about the month regarding failure compounds the depression.
I don't like resolutions. The negativity of their collapse is one reason I call them goals instead. I list what I feel God is asking me to work on, to experience, to become in the coming 12 months and plan steps to work towards them throughout the year.  Progress, not perfection.
Two broad "goals" that I wrote about on this blog for this year is the Year of Reading and the Year of Creativity. I thought I would share an update on these two areas, hoping my small steps forward may inspire your goals too.
2018 Lessons – Year of Reading.
Yes, I am reading more in 2018. 
I have discovered if I take the time to read 15-30 minutes in the morning, I absorb the information with more depth. The words linger in my mind throughout the day. They establish root in my soul.
Pat Flynn recommended being consistent in reading and put it into your schedule morning, noon, and evening. He advises us to dedicate time to read. For me, morning has worked out about 75% of the time but evening only about 25%. I start to read in the evening, can't concentrate and the sleep monster attacks.
Yes, I am tackling all the "someday I want to read" books and am discovering more throughout the house. Do you think they multiple on their own? LOL
I did create an "editorial calendar" for Facebook Lives for the Healthy Spirituality Book Chat and have completed two of them. My goal is to go live twice a month, probably on Fridays on my Facebook author page,
Here is the video of one of them in case you are curious.
2018  Lessons – Year of Creativity
In 2018 I want to play with photography and fancy lettering. Adding doodling and dreaming to nourish my spirit.
I put onto my weekly calendar on Mondays – "set a time this week for creativity."
I ordered Faith and Lettering by Krystal Whitten to serve as a basis for the lettering hobby. Am getting supplies this week and will hopefully start practicing by next week. I am lousy when it comes to fine motor skills, so this will be a bit challenging for me.
I wanted to visit the Toledo Museum of Art and have an artist date with friends set up for early March. I am excited about this adventure.
Photography though has been the greatest pleasure so far. I watched some classes on Skillshare on macro (close up) photography. Gathered up my older cameras, including my DSLR camera. Researched best lenses and to my surprise, found one of the lenses I already had was highly recommended.
Last Sunday after church, I ventured out into the cold (remember I am not a cold weather outside person at all) and focused closely on God's beauty. The details in God's handiwork amazes me.





Thanks for coming along with me on this journey. I do believe God is constantly shaping us, inviting us closer – and our hopes, dreams, and experiences are tools in his hands.
Tell me about your 2018 hopes and dreams and what, if any, progress you have made so far in 2018?  How is God shaping you this year? Let's encourage each other onward.