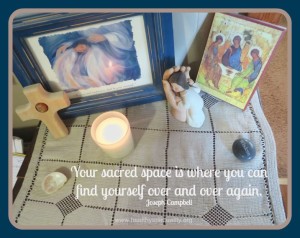 One key result from my recent readers' survey was we all struggle with hearing and experiencing God. There are times everything seems to fall into place and we have a profound encounter. Other times we feel restless, distracted and strain like our ears and hearts are plugged with cotton.
I believe God is within us and around us all the time. But at times I just can't quite tune him in. Busyness diverts my attention. Worries and fears fill my head instead of his voice. My mind races ahead to the next project, missing the blessing in the present.
To be honest there are times, my morning moments with God is another item to check off my to do list or another "why can't I do better?" ego never good enough thought.
A Sacred Space.
I have a glider in my office that I sit in for my moments with God. My Bible and prayer list are nearby. The table holds my journal, pen, the God Box (to put in the prayers that I seem to cling to and not leave in God's hands) and whatever daily devotional I am reading.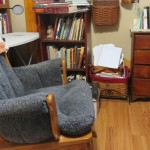 I can gaze out the window into the backyard – observing the neighbor's tall tree facing all types of weather and changing seasons. I see birds come and go from our feeder or rest on our fence. I watch the clouds dance in God's glorious sky.
I discovered creating a sacred space at home helps me to experience God more deeply and settles me into a listening mode rather than a "tell God what he ought to be doing" approach.
I have often wondered about creating an altar in my house but never found the right location. Just this week while sitting in my chair trying to practice quiet contemplative prayer, I open my eyes and saw it. Right in front of me.
The top of the small chest of drawers just to the left of my chair. Up till this week I used its top to house my books. I chuckled when I felt the Lord telling me, though books were a blessing and a guidance on my walk – I didn't need them on my altar.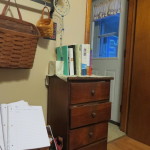 I prayed. I listened. Then as I created an altar and thought of three lessons:
Environment – This space provides some privacy and quiet. There should be openness, not too much clutter. What items would I put there that were meaningful for me? – a cross, a candle, the icon of the Trinity, the statue representing that I am always in God's hand, the drawing reminded me I am his child, a shell holding my dreams and a stone with the word "wisdom" signifying my work – I need these reminders daily and every moment to place my hopes and work on God's altar, not in my ego's selfish grasp.
Clean the slate, God, so we can start the day fresh!
Keep me from stupid sins,
from thinking I can take over your work;
Then I can start this day sun-washed,
scrubbed clean of the grime of sin.
These are the words in my mouth;
these are what I chew on and pray.
Accept them when I place them
on the morning altar,
O God, my Altar-Rock,
God, Priest-of-My-Altar.
Psalm 19: 12-14 The Message
Resources – I gathered my Bible, journal, favorite pen and devotional into one basket near my chair. No excuses for breaking the silence and stillness if everything is close by.
Time/Ritual – Seeing the altar as I enter my office helps me remember who I am serving. I light the candle and I feel a peace enter my body as the Spirit calms my soul. I bow before my Lord and King. Sometimes I play soft music or the sounds of ocean waves but usually silence seems best.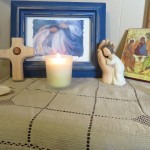 As I prayed this morning in the same chair, facing the same window but now with an altar before me, I realized what I wasn't seeing during my quiet time. My books were behind me on the shelves waiting silently until I needed them. My chair sits slightly to the left, so my view is the altar and the window, not my desk representing distractions of work, emails and busyness. Worshipping God captures my entire attention.
Maybe this is just a silly mind game, but all I know creating an environment, a sacred space, has helped me center, focus and enjoy God's presence. My prayers transform from being all about me to more adoration, gratitude and openness in following his word. I connect to his presence quicker, letting go of the world's demands and noise.
To pray is to listen, to move through my own chattering to God,
to that place where I can be silent
and listen to what God may have to say.
Madeleine L'Engle
Have you created a sacred space in your home? Share your ideas with us.