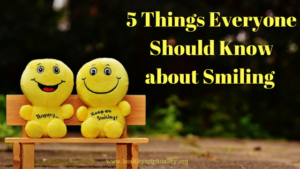 Can smiling be a spiritual practice?  I think so. Ok – all together now – say cheese and SMILE!
Smiling is powerful and is a practice that not only brings delight to our spirit and to others, but also can transform the world.
Just think: Smiling costs nothing. A smile takes only a quick second but can offer encouragement beyond our imagination. Smiling creates good will and joy and nourishes relationships.
World Smile Day
Did you know the first Friday in October every year is World Smile Day?
I didn't until recently know about its history. You might not know his name but Harvey Ball, a commercial artist from Worcester, Massachusetts created the well-known smiley face in 1963. Remember the scene from the movie Forrest Gump when Tom Hanks is jogging and wipes his face on a tee shirt and the man sees the smiley face and gets the idea.  A funny reenactment of the birth of this image.
But I digress…
Harvey Ball became discouraged about the over-commercialization of his image and worried that the original meaning had become lost in the marketplace.  He created World Smile Day to promote one day each year for smiling and acts of kindness. The first World Smile Day began in 1999.
So take time on October 7 to smile and to be kind to those you encounter.
5 Things Everyone Should Know about Smiling
Smiling is good for your health. Research has shown that smiling, even forcing yourself to smile boosts your mood. Smiling strengthens your immune system and will help you fight off colds. Studies show an increase in antibodies and T-cells (protective white blood cells) with a smile. You are more relaxed as the grin releases endorphins throughout your body. And there is truth to the statement: Fake it till you make it. Thanks to those endorphins from smiling, faking it till you make it actually does work. Smiling reduces stress that your body and mind feel, almost as good as getting a full night of sleep.  
Smiling builds positive relationships. While we smile less at work than we do at home, 30% of subjects in a research study smiled five to 20 times a day, and 28% smiled over 20 times per day at the office. Smiling may help your status at work by increasing your attractiveness, sociability, and confidence. One study showed that though women smile a great deal more than men the difference declines when the two genders share the same job. The researchers believe that it could be because every workplace has an unspoken "smiling standard" that's followed by all employees. And don't forget to share some of your joy with your family too. 
"If you have only one smile in you, give it to the people you love. Don't be surly at home, then go out in the street and start grinning 'Good morning' at total strangers."
Maya Angelou
Smiling increases your beauty. One research study discovered that 69% of people find women more attractive when they smile compared to when they wore makeup.
Smiles are contagious. 

 

Let's spread this positive act around!! Scientists have actually verified that smiling is catching. The neurons in our brains fire up a synchronizing reaction to keep you mirroring the person you are speaking to.  In a study conducted in Sweden, people had difficulty frowning when they looked at other subjects who were smiling, and their muscles twitched into smiles all on their own.  We naturally mimic another person's smile, whether real or fake.
Smiling is universal and recognizable. Smiling occurs in all cultures throughout the world as a sign of happiness and acceptance. People can recognize smiles from up to 300 feet away, making it the most easily recognizable facial expression. Did you know there are 19 different types of smiles, ranging from polite social smile which only uses a few muscles to sincere smiles that uses many more muscles on both sides of your face? Sincere smiles cause the corners of your eyes to scrunch up — insincere smiles don't.
Thoughts about Smiling to Share and Ponder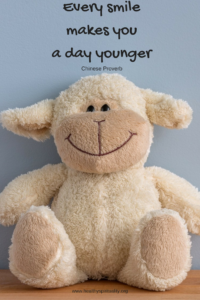 The world always looks brighter from behind a smile.
Author unknown
[Tweet "The world always looks brighter from behind a smile. Author unknown"]

A smile is the light in the window of your face that tells people you're at home.
Author unknown
[Tweet "A smile is the light in the window of your face that tells people you're at home. Author unknown"]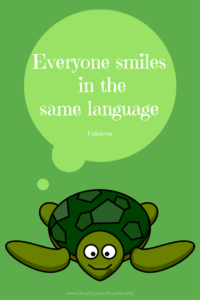 Smile — sunshine is good for your teeth.
Author unknown

Why are you down in the dumps, dear soul? Why are you crying the blues? Fix my eyes on God— soon I'll be praising again. He puts a smile on my face. He's my God.
Psalm 43: 5 The message
******
 Keep a smile on your face.
Romans 12: 8 The Message
******
Sometimes your joy is the source of your smile, but sometimes your smile can be the source of your joy.
~Thích Nhất Hạnh
I hope this post has made you smile and appreciate the importance of this simply expression.  Too bad everyday can't be World Smile Day or could it?   

What makes you smile?