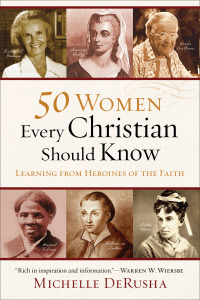 I love stories. I think we all do. Especially the biographies that show courage, transform attitudes and stir hope within our hearts.
I love, love, love this new book, just released by Michelle DeRusha, called 50 Women Every Christian Should Know.
I discovered new insights to old favorites and read about some women I never heard of before and their deeply moving stories. The book highlights 50 women across nine centuries. The chapters are just the right length for a quick read in a waiting room or just before bed. The book would make a great small group study too.
Michelle is a blogger friend who graciously took the time to answer a few of my questions:
Which woman surprised you the most or resonated with you the most?

This is such a hard question, because I found things that surprised me about almost every woman in this book. But I'd have to say that Amanda Berry Smith is one woman who really knocked my socks off.
 Amanda was an African-American preacher in post-bellum America, which means she was preaching to mixed audiences – black and white — just a couple of years after the end of the Civil War. Can you imagine the tension? Can you imagine the racism she suffered on a daily basis? When she was preaching in the Methodist tent revivals, people would sneak up and peek into her tent just to gawk at her, because of the fact that she was a black woman preacher.
Not only was she an uneducated woman (two strikes against her right there), Amanda Berry Smith was also a former slave – she crossed gender, social and racial barriers to live out her calling. I can't imagine having that kind of courage and determination. And to deal with such pervasive hatred and racism and not succumb to hatred and bitterness herself? Incredible.
Amanda Berry Smith refused to sully Christ by lowering his standards of grace. She stubbornly prayed over and over, "Lord, help the people see" – which I think is a prayer that's just as relevant for us today as it was for those living in post-Civil War America.
2. How did reading all these wonderful inspirational stories change you spiritually?
The stories of these women fueled my faith, plain and simple. I felt a renewed sense of calling and a greater understanding of the importance of my role as a writer, a wife, a mother, a neighbor and a follower of Jesus. The courage, fortitude and perseverance of these women empowered me. This sounds a little silly, but I came away from this book feeling like, "I am a Christian woman hear me roar!" I was fired up to love God and love my neighbors in the way that God has personally called me to do so.
3. Are you living differently now after this project?  What I mean is discerning in a new way, praying in a new way, using a new spiritual practice that you adopted while reading about these women?
Well, honestly, I don't know if I am discerning or praying in a new way, but I do feel like I have a clearer vision of my personal calling as a writer. I am more committed to that calling, and I think I see more clearly now how even those of us with less dramatic, less radical roles can be used by God in powerful, impactful ways.
Part of me used to feel guilty that I wasn't doing something big for God, like serving as a missionary overseas or selling all my stuff and committing my life to the poor. Now I see that every single person has a role to fulfill in God's kingdom, and it doesn't much matter whether that role is large or small. Any service done in God's name and for God's glory is valuable. Like Mother Teresa said, "Not all of us can do great things. But we can all do small things with great love."
4. What words of wisdom from one or several of them linger with you now?
Well, as I mentioned in the last question, Mother Teresa's statement about doing small things with great love is something that's stuck with me. And actually, it was Therese of Lisieux who said it first. Mother Teresa adapted that saying from her, and in fact, Therese of Lisieux was a powerful role model for Mother Teresa.
As a writer, Madeleine L'Engle's words also stick with me. I love the way she defined herself as a writer. "I have often been asked if my Christianity affects my stories, and surely it is the other way around," L'Engle said. "My stories affect my Christianity, restore me, shake me by the scruff of the neck, and pull this straying sinner into an awed faith." That resonates with me. Writing helps me see and hear God in a new way. Sometimes writing helps me see and hear God when I probably would have missed him otherwise. So in that way, writing is like a form of prayer for me, and I think it was that way for Madeleine L'Engle, too.
Finally, I love the words educator Mary Lyon offered to her students. "We ought to turn the current of feeling towards others and it will branch into a thousand streams," she said. "How much happier you would be to live in a thousand beside yourself, rather than to live in yourself alone."
That's exactly what every one of the fifty women in this book did. They lived in a thousand, rather than in themselves alone. And those are hugely powerful words for each of us to live by as well.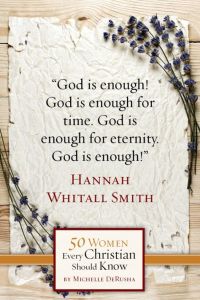 Thanks Michelle. You too are an inspiration to us, just like the women you researched.
I did receive a free copy of the book in exchange for this review but honestly I am freely highly recommending this one for your library. It would make a great Christmas gift too.
And guess what?  They sent me a second one to give away to someone.  So dear readers, for anyone who leaves a comment answering the question: what woman in history inspire you? will be eligible to win this book.  I will draw a name by random Sept. 22 evening and let the winner know. So be sure to leave a comment.
The stories we read, the lives we witness, the lessons we learn from others all shape our faith and the way we live. Dig into these 50 women and you will never be the same. A great read!