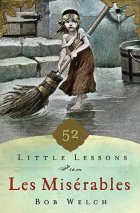 Les Miserables is one of my favorites books and shows. I love the moving music that uplifts my spirit but even more I relish this tale's profound story of transformation through love.
Since this story means so much to me I was intrigued to read and review this new book by Bob Welch, 52 Little Lessons from Les Miserables. I received this book from the BookLook Blogger program but in no way am I required to give a positive review.
I enjoyed this easy to read, thought provoking book. Welch gives the reader a background about the story and its characters, so if you have never trudged your way through the 1000+ pages of Hugo's book, you won't be lost. But you may find yourself humming the tunes from the musical though. ( :
Each lesson begins with a quote from the book and then an illustration of each chapter's title. You get an inside glimpse of Hugo, of actors who played various parts and how this story has impacted others.
The book is filled with inspiration such as:
"You want love at its deepest? Look beneath the surface, into the sewers of sacrifice that some people willingly wade for others. Down there, in the darkness and obscurity, that's where you'll find the real thing."
"Think about it. What turns Jean Valjean's life around isn't some secret code to fulfillment that the bishop had given him.
It isn't – a la Javert – a set of rules. It isn't religion. What turns his life around is this: a relationship…
God. People. Relationships."
"He did not study God; he was dazzled by Him. – Hugo, on Valjean"
A good book to add your reading list.
May we all be dazzled by God!