Then he told them this story:
 "The farm of a certain rich man produced a terrific crop.
He talked to himself: 'What can I do? My barn isn't big enough for this harvest.'
Then he said, 'Here's what I'll do: I'll tear down my barns and build bigger ones. Then I'll gather in all my grain and goods, and I'll say to myself, Self, you've done well! You've got it made and can now retire. Take it easy and have the time of your life!'
"Just then God showed up and said, 'Fool! Tonight you die. And your barnful of goods—who gets it?'
"That's what happens when you fill your barn with Self and not with God."
Luke 12: 16-21 – The Message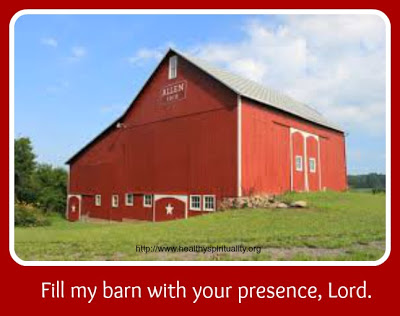 "That's what happens when you fill your barn with Self and not with God."
Forgive me, Lord. I'm stuffed.
My self-centeredness occupies my mind and doubts fill up my heart.
My mouth is jam-packed with my opinions; my thoughts clogged with what about me?
I am a fool, Lord, wanting more and more things of no real value. I thirst for satisfaction trying to fill my emptiness with the rubbish from the world. My hands overflow with stuff, not you. 
Help me get rid of all things that block me from you, Lord.
All I collect and hoard away is worthless.
Let my soul only yearn for you,
my heart only seek your wisdom,
and my eyes only focus on you.
Fill me with your spirit, Lord. You and only you. 
Only your love can fill my barrenness and patch the holes in my heart. 
Pour your spirit into the shelter of my soul and fill the barn of my being with your presence.